News
News Release
<< Back
American Capital Recognizes $43 Million Q3 Gain From Sale of Portfolio Company SAV Holdings ; Provides $48 Million Financing to Purchaser
Bethesda, MD – October 11, 2007 – American Capital Strategies Ltd. (Nasdaq: ACAS) announced today that it realized a gain of $43 million from the sale of its portfolio company SAV Holdings Inc., the parent of Swank Audio Visuals Inc. ("Swank" or the "Company") to Code Hennessy & Simmons LLC in the third quarter of 2007. Swank is a leading provider of audio visual services for corporate meetings and events. American Capital invested $48.5 million to support Code Hennessy & Simmons' acquisition of Swank in the form of a second lien senior term B loan. Code Hennessy & Simmons and Swank management invested in the equity.
American Capital acquired control of Swank in November 2005, investing $58 million in senior term loans, senior subordinated debt and preferred and common equity. American Capital has now realized a gain on its investment in Swank of $51 million, earning a 68% compounded annual rate of return on its investment, including interest, dividends and fees earned over the life of its investment. Together with its affiliate American Capital Equity I, LLC ("ACE I"), the combined American Capital group realized an inception to date aggregate gain of $60 million from the exit, earning an aggregate 68% compounded annual rate of return on their investments, including interest, dividends and fees earned over the life of their investments. Together, American Capital and ACE I realized approximately three times their original equity investment in Swank, with an aggregate equity IRR of 109%. The proceeds received by American Capital were less than its second quarter 2007 valuation of the investment by $6 million, or 6%.
"Swank, led by a dedicated and energetic management team, has far exceeded our expectations since we acquired the Company nearly two years ago," said Darin Winn, American Capital Regional Managing Director. "We are delighted to be providing additional financing for this outstanding company and to have this opportunity to work with our new private equity partner, Code Hennessy & Simmons. This new partnership represents yet another important expansion of our Sponsor Finance Group."
American Capital has invested directly and through its funds under management approximately $10.8 billion in the last twelve months, over $8.7 billion year to date, approximately $2 billion in the third quarter and over $460 million quarter to date. Not including funds under management, American Capital has invested approximately $7.9 billion in the last twelve months, over $6.4 billion year to date, over $1.4 billion in the third quarter and over $350 million quarter to date. For more information about American Capital's portfolio, please go to www.americancapital.com/our_portfolio/our_portfolio.html.
"Swank's dedication to customer satisfaction, its top quality equipment and range of services as well as its expertly trained and motivated staff consistently produce high customer retention rates," said Jon Leiman, American Capital Principal, Buyout Group. "Swank anticipates continuing growth opportunities through further penetration of the hotel services sector and extension of its event services business into major new convention cities."
Founded in 1937, Swank is the nation's second largest outsourced provider of audio visual equipment and related technical support services to prominent hotels and resorts in 58 major markets in the United States, Canada and Mexico. Through long-term contracts with premium hotels and resorts, Swank provides a range of services including event consultation, creative event design, technical support, equipment rental and post-production services to end users, typically consisting of large corporations, associations and other interest groups. Swank provides services to hundreds of prominent hotels in North America including well-known brands such as Four Seasons, Hyatt, Hilton, Marriott, and Ritz Carlton. Swank also provides event services outside of its hotel business. Headquartered in St. Louis, MO, Swank maintains 13 facilities across the country and has more than 1,000 employees.
"We are pleased to be investing in Swank and partnering with American Capital for the first time," said Richard Lobo, Partner at Code Hennessy & Simmons. "Based on American Capital's reputation and our experience with the firm over the past several months, we are confident that we will work with American Capital on other opportunities in the future."
For more information about American Capital's investment in SAV Holdings, please go to www.americancapital.com/our_portfolio/companies/sav_holdings.html.
ABOUT AMERICAN CAPITAL
American Capital is the only alternative asset management company that is a member of the S&P 500. With $17 billion in assets under management(1), including its investments in externally managed funds, American Capital is the largest U.S. publicly traded private equity fund and one of the largest publicly traded alternative asset managers. American Capital, both directly and through its global asset management business, is an investor in management and employee buyouts, private equity buyouts, and early stage and mature private and public companies. American Capital provides senior debt, mezzanine debt and equity to fund growth, acquisitions, recapitalizations and securitizations. American Capital and its affiliates invest from $5 million to $800 million per company in North America and €5 million to €500 million per company in Europe.
As of September 30, 2007, American Capital shareholders have enjoyed a total return of 596% since the Company's IPO, an annualized return of 21%, assuming reinvestment of dividends. American Capital has paid a total of $1.9 billion in dividends and paid $25.16 dividends per share since going public in August 1997 at $15 per share.
Companies interested in learning more about American Capital's flexible financing should contact Mark Opel, Senior Vice President, Business Development, at (800) 248-9340, or visit www.AmericanCapital.com or www.EuropeanCapital.com.
ABOUT CODE HENNESSY & SIMMONS LLC
Code Hennessy & Simmons LLC ("CHS") is a Chicago-based private equity firm specializing in private equity investments and recapitalizations of middle market companies in partnership with management. CHS targets well-managed companies focused on growth with enterprise values between $75 million and $1 billion. Founded in 1988, CHS has formed five private equity funds and currently manages over $2.5 billion of capital. It has completed 69 platform investments and 163 add-on investments. CHS has particular expertise in the business and consumer services, distribution, consumer products and infrastructure and industrial product sectors. CHS's portfolio companies include: AMF Bowling Worldwide, Inc., the largest operator of bowling centers worldwide; Acton Mobile Industries, a leading provider of modular space rental services; and Suture Express, Inc., a distributor of sutures and other wound closure products.
(1) Assets Under Management is an estimate of internally and externally managed assets as of September 30, 2007 and does not include any fair value adjustments subsequent to June 30, 2007.
Performance data quoted above represents past performance of American Capital. Past performance does not guarantee future results and the investment return and principal value of an investment in American Capital will likely fluctuate. Consequently, an investor's shares, when sold, may be worth more or less than their original cost. Additionally, American Capital's current performance may be lower or higher than the performance data quoted above.
This press release contains forward-looking statements. The statements regarding expected results of American Capital are subject to various factors and uncertainties, including the uncertainties associated with the timing of transaction closings, changes in interest rates, availability of transactions, changes in regional, national or international economic conditions, or changes in the conditions of the industries in which American Capital has made investments.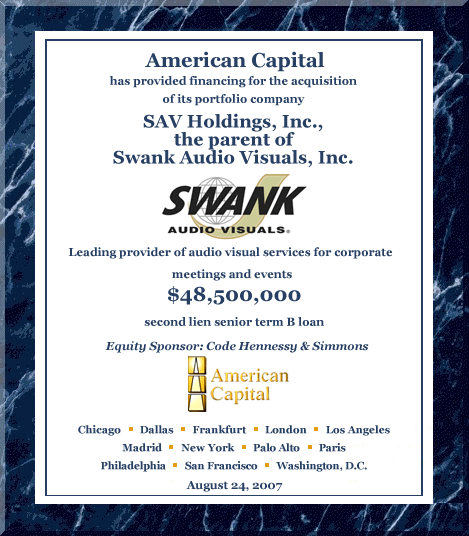 This announcement is neither an offer to sell nor a solicitation to buy securities.
This announcement appears as a matter of record only.
Contact:
Jon Leiman, Principal, Buyout Group (312) 681-7400
Greg Long, Vice President, Sponsor Finance Group (312) 681-7400
Brian Maney, Director, Corporate Communications (301) 951-6122
SOURCE: American Capital Ltd.
www.americancapital.com