News
News Release
<< Back
American Capital Invests $112 Million in One Stop Buyout™ of Imperial Supplies
Bethesda, MD - October 22, 2007 - American Capital Strategies Ltd. (Nasdaq: ACAS) announced today that it has invested $112 million in the One Stop Buyout™ of Imperial Supplies LLC, a value-added distributor of after-market components to fleet and facility-based markets. American Capital's investment takes the form of a senior term loan, senior and junior subordinated debt and preferred and common equity. American Capital is also providing a revolving credit facility. Imperial management is investing in preferred and common equity. Post close, American Capital owns a majority of the Company with Imperial management owning a minority stake. Imperial Supplies was a portfolio company of Norwest Equity Partners prior to American Capital's investment.
"We are pleased to be investing in Imperial Supplies whose singular service model sets it apart as an outstanding distributor of after-market components to fleet and facility-based markets," said Darin Winn, American Capital Regional Managing Director. "American Capital provided a highly competitive One Stop Buyout™ package with financing across the capital structure. We look forward to supporting Imperial's proven and committed management team as the Company broadens and deepens its solid market position."
American Capital has invested directly and through its funds under management over $10.8 billion in the last twelve months, over $8.8 billion year to date and approximately $550 million quarter to date. Not including funds under management, American Capital has invested over $7.9 billion in the last twelve months, approximately $6.5 billion year to date and over $470 million quarter to date. For more information about American Capital's portfolio, please go to www.americancapital.com/our_portfolio/our_portfolio.html
"Imperial holds a unique position in an industry whose growth is supported by the increase in truck transportation volumes and the aging of fleets. At the same time, the Company is less vulnerable to economic cycles given the diversity of the fleets served and the cargo they transport," said Gregg Newmark, American Capital Managing Director. "Employing its long established call center service model, Imperial enables customers to maintain corporate-level control of inventory and reordering and as a result significantly lower costs."
"Imperial's rapid turnaround times and value-added services such as its forensic spend analysis that reduces duplications and overstock have earned the Company thousands of loyal customers," said John Neis, American Capital Principal. "Imperial plans to further expand its diversified customer base, which already includes the top common carriers and national leasing companies, by offering new products and services."
Founded in 1958, Imperial distributes over 20,000 high margin products across 15 maintenance, repair and operations categories including electrical products, chemicals and paint, air brake products, vehicle parts and accessories and fasteners. Employing a call-center based model, Imperial serves more than 7,250 customers in 14 major end markets including truck rental/lease, private fleets and parcel carriers. Headquartered in Green Bay, WI, Imperial also has distribution facilities in Green Bay, Charlotte, NC, Reno, NV, and Dallas, TX and call centers at its headquarters and in De Pere, WI.
"We welcome American Capital as our new partner," said Rob Gilson, Imperial Supplies CEO. "We are impressed with American Capital's thorough assessment of our company and are confident that its strong support will significantly contribute to our ambitious growth initiatives."
ABOUT AMERICAN CAPITAL
American Capital is the only alternative asset management company that is a member of the S&P 500. With $16 billion in assets under management(1), including its investments in externally managed funds, American Capital is the largest U.S. publicly traded private equity fund and one of the largest publicly traded alternative asset managers. American Capital, both directly and through its global asset management business, is an investor in management and employee buyouts, private equity buyouts, and early stage and mature private and public companies. American Capital provides senior debt, mezzanine debt and equity to fund growth, acquisitions, recapitalizations and securitizations. American Capital and its affiliates invest from $5 million to $800 million per company in North America and €5 million to €500 million per company in Europe.
As of September 30, 2007, American Capital shareholders have enjoyed a total return of 596% since the Company's IPO,an annualized return of 21%, assuming reinvestment of dividends. American Capital has paid a total of $1.9 billion in dividends and paid $25.16 dividends per share since going public in August 1997 at $15 per share.
Companies interested in learning more about American Capital's flexible financing should contact Mark Opel, Senior Vice President, Business Development, at (800) 248-9340, or visit www.AmericanCapital.com or www.EuropeanCapital.com.
(1) Assets Under Management is an estimate of internally and externally managed assets as of September 30, 2007 and does not include any fair value adjustments subsequent to June 30, 2007.
Performance data quoted above represents past performance of American Capital. Past performance does not guarantee future results and the investment return and principal value of an investment in American Capital will likely fluctuate. Consequently, an investor's shares, when sold, may be worth more or less than their original cost. Additionally, American Capital's current performance may be lower or higher than the performance data quoted above.
This press release contains forward-looking statements. The statements regarding expected results of American Capital are subject to various factors and uncertainties, including the uncertainties associated with the timing of transaction closings, changes in interest rates, availability of transactions, changes in regional, national or international economic conditions, or changes in the conditions of the industries in which American Capital has made investments.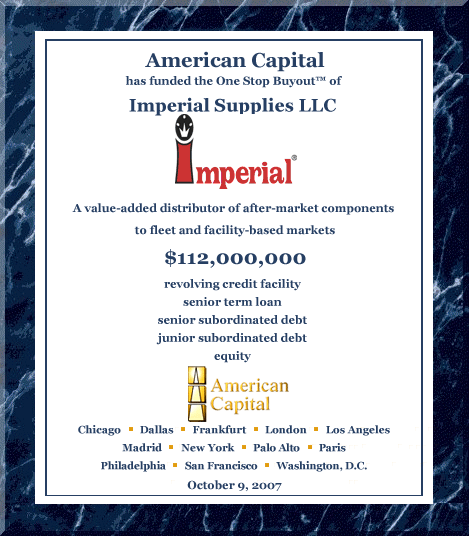 This announcement is neither an offer to sell nor a solicitation to buy securities.
This announcement appears as a matter of record only.
Contact:
Gregg Newmark, Managing Director, Buyout Group (312) 681-7400
John Neis, Principal, Buyout Group (312) 681-7400
Brian Maney, Director, Corporate Communications (301) 951-6122
SOURCE: American Capital Ltd.
www.americancapital.com