News
News Release
<< Back
American Capital Invests $631 Million in One Stop Buyout™ of SMG
Bethesda, MD – June 25, 2007 – American Capital Strategies Ltd. (Nasdaq: ACAS) announced today that it and an affiliate have invested $631 million in the One Stop Buyout ™ of SMG, the leading provider of entertainment and conference venue management services worldwide. American Capital's investment takes the form of a senior term loan, senior subordinated debt, holding company PIK notes and convertible preferred and common equity. In addition, American Capital is also providing a revolving credit facility. American Capital Equity Fund I LLC ("ACE"), a fund managed by American Capital, provided 30% of the American Capital equity investment. Post close, American Capital owns approximately 83% of SMG, on a fully diluted basis.
"SMG, the world leader in facility management, marketing and development, is an exciting investment opportunity for American Capital," said Brian Graff, American Capital Regional Managing Director. "For this investment, we assembled an appropriate financing package consisting of different forms of capital to meet SMG management team's current needs and future growth plans."
"Over its 30 year history, SMG has led the industry with its ability to efficiently manage and enhance the operations of public assembly venues," said Robert Klein, American Capital Managing Director. "We are pleased to partner with the SMG management team as they continue to build upon this record of success."
American Capital has invested directly and through its funds under management $9.5 billion in the last twelve months, $5.4 billion year to date and approximately $3.5 billion quarter to date. Not including funds under management, American Capital has invested $6.8 billion in the last twelve months, $3.9 billion year to date and approximately $2.5 billion quarter to date.
"SMG's track record of success is evident in its long term client relationships and extraordinary contract renewal rates," said Pankaj Gupta, American Capital Principal. "SMG's large and broad portfolio of venues provides exceptional diversity across event type, end market, attendee population demographic and geography, resulting in a highly predictable and stable business model. This has enabled SMG to achieve consistently strong results."
Founded in 1977, SMG currently manages 203 venues, including arenas, stadiums, convention centers, exhibition halls, trade centers, theaters and performing arts centers. The Company's facilities are primarily located throughout the U.S., with international facilities in the U.K., Germany, Ireland, Canada, Puerto Rico, Mexico, Norway and the U.A.E. SMG managed venues include Oracle Arena in Oakland, CA , Reliant Stadium in Houston, TX, the Moscone Center in San Francisco, CA, the Long Beach Convention Center in Long Beach, CA, the Manchester Evening News Arena in Manchester, U.K., and the König-Pilsener Arena in Oberhausen, Germany. SMG is headquartered in Philadelphia and has over 34,000 employees worldwide.
"American Capital's firm understanding of our unique business model and ability to provide a complete financing package makes them an extremely valued partner," said Wes Westley, SMG CEO. "We look forward to a strong relationship with our new investment partner as we continue to expand our geographical reach and find new ways to offer a variety of top-of-the-line services to both new and existing customers."
ABOUT AMERICAN CAPITAL
American Capital is the third largest U.S. publicly traded alternative asset manager with $12 billion in assets under management (third to The Blackstone Group (NYSE: BX) and Fortress (NYSE: FIG)). American Capital, both directly and through its global asset management business, is an investor in management and employee buyouts, private equity buyouts, and early stage and mature private and public companies. American Capital provides senior debt, mezzanine debt and equity to fund growth, acquisitions, recapitalizations and securitizations. American Capital and its affiliates invest from $5 million to $800 million per company in North America and €5 million to €500 million per company in Europe.
As of May 31, 2007, American Capital shareholders have enjoyed a total return of 656% since the Company's IPO—an annualized return of 23%, assuming reinvestment of dividends. American Capital has paid a total of $1.6 billion in dividends and paid or declared $24.24 dividends per share since its August 1997 IPO at $15 per share.
Companies interested in learning more about American Capital's flexible financing should contact Mark Opel, Senior Vice President, Business Development, at (800) 248-9340, or visit www.AmericanCapital.com or www.EuropeanCapital.com.
Performance data quoted above represents past performance of American Capital. Past performance does not guarantee future results and the investment return and principal value of an investment in American Capital will likely fluctuate. Consequently, an investor's shares, when sold, may be worth more or less than their original cost. Additionally, American Capital's current performance may be lower or higher than the performance data quoted above.
This press release contains forward-looking statements. The statements regarding expected results of American Capital Strategies are subject to various factors and uncertainties, including the uncertainties associated with the timing of transaction closings, changes in interest rates, availability of transactions, changes in regional, national or international economic conditions, or changes in the conditions of the industries in which American Capital has made investments.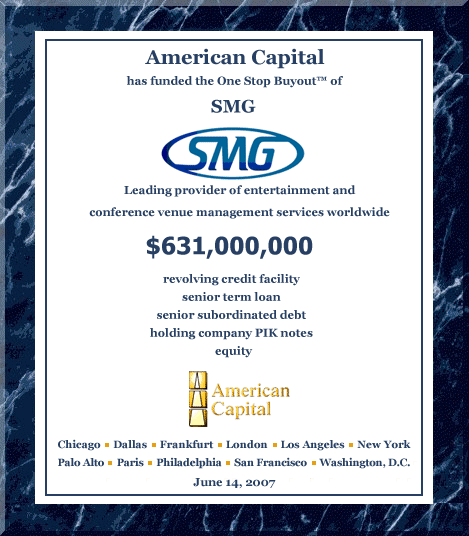 This announcement is neither an offer to sell nor a solicitation to buy securities. This announcement appears as a matter of record only.
Contact:
Pankaj Gupta, Principal, (212) 213-2009
Brian Maney, Director, Corporate Communications (301) 951-6122
SOURCE: American Capital Ltd.
http://www.americancapital.com