News
News Release
<< Back
American Capital Acquires Equity Interest in Explorer Pipeline Company
Bethesda, MD - January 29, 2007 - American Capital Strategies Ltd. (Nasdaq: ACAS) announced today that it and an affiliate have acquired a 6.8% equity interest in Explorer Pipeline Company ("Explorer"), the owner and operator of the second largest refined liquid petroleum products pipeline in the United States. American Capital's investment takes the form of senior subordinated debt and common equity. American Capital Equity Fund I LLC ("ACE"), a fund managed by American Capital, provided 30% of the American Capital equity investment. The investment funds the buyout of CITGO Pipeline Holding II LLC's, a wholly owned subsidiary of CITGO Petroleum Corporation, minority interest in Explorer.
"As one of the nation's preeminent providers of fuel transportation, Explorer perfectly fits the profile of our Energy Group's portfolio companies," said Darin Winn, American Capital Regional Managing Director. "Our Energy Group, now with 10 investment and operating professionals, is generating a steady stream of highly attractive investment opportunities in our targeted sectors of production, transmission, distribution and services."
American Capital invested directly and through its funds under management $6.7 billion in 2006 and $2.2 billion in the fourth quarter of 2006 and has invested $577 million in 2007 year to date. Not including funds under management, American Capital invested $5.1 billion in 2006 and $1.7 billion in the fourth quarter of 2006 and has invested $540 million in 2007 year to date.
"Explorer's origination points and refinery connectivity make it a key transportation element in the Gulf Coast's energy infrastructure," said Kevin Kuykendall, American Capital Managing Director, Energy Group. "In addition, with deliveries of up to 12% of the Midwest's refined products, Explorer is the largest pipeline supplier to the Midwest region."
"Over its 35-year history, Explorer has developed a reputation as a safe and reliable operator with a strong track record of delivering on-specification products to the key demand markets," said Michael Gee, American Capital Principal, Energy Group. "We think the Company is well positioned to meet the growing transportation needs of its customers as Gulf Coast refineries expand capacity and demand for petroleum products in the Dallas/Fort Worth and Midwestern markets continues to grow."
Explorer was formed by eight oil companies and shipped its first product in 1971. The Company owns and operates a 1,400 mile common-carrier pipeline system that transports gasoline, diesel fuel, jet fuel and other petroleum products for customers from the Gulf Coast to the Midwestern United States. Through connections with other products pipelines, Explorer serves more than 70 major population centers in 16 states. Major tankage and terminals are located at Port Arthur, Greenville and Grapevine, Texas; Glenpool, Oklahoma; Wood River, Illinois; and Hammond, Indiana. There are presently 32 pump stations located throughout the system. It can take as few as 11 days to transport a barrel of product from the Gulf Coast to Chicago on the Company's system. Explorer is headquartered in Tulsa, OK.
ABOUT AMERICAN CAPITAL ENERGY GROUP
The American Capital Energy Group invests senior debt, subordinated debt and equity across all segments of the energy industry, including exploration and production, transportation, distribution, equipment manufacturing, services, power generation and renewables. Companies interested in learning more about American Capital's energy initiative should contact Kevin Kuykendall at (214) 273-6634, or visit the website at www.AmericanCapital.com/Energy.
ABOUT AMERICAN CAPITAL
American Capital is the largest U.S. publicly traded alternative asset manager with $12 billion in capital resources under management. American Capital, both directly and through its global asset management business, is an investor in management and employee buyouts, private equity buyouts, and early stage and mature private and public companies. American Capital provides senior debt, mezzanine debt and equity to fund growth, acquisitions, recapitalizations and securitizations. American Capital invests from $5 million to $500 million in North America and €5 million to €400 million in Europe.
As of December 31, 2006, American Capital shareholders have enjoyed a total return of 617% since the Company's IPO -an annualized return of 23%, assuming reinvestment of dividends. American Capital has paid a total of $1.4 billion in dividends and paid $22.44 in dividends per share since going public in August 1997 at $15 per share.
Companies interested in learning more about American Capital's flexible financing should contact Mark Opel, Senior Vice President, Business Development, at (800) 248-9340, or visit www.AmericanCapital.com or www.EuropeanCapital.com.
Performance data quoted above represents past performance of American Capital. Past performance does not guarantee future results and the investment return and principal value of an investment in American Capital will likely fluctuate. Consequently, an investor's shares, when sold, may be worth more or less than their original cost. Additionally, American Capital's current performance may be lower or higher than the performance data quoted above.
This press release contains forward-looking statements. The statements regarding expected results of American Capital are subject to various factors and uncertainties, including the uncertainties associated with the timing of transaction closings, changes in interest rates, availability of transactions, changes in regional, national or international economic conditions, or changes in the conditions of the industries in which American Capital has made investments.
This announcement is neither an offer to sell nor a solicitation to buy securities.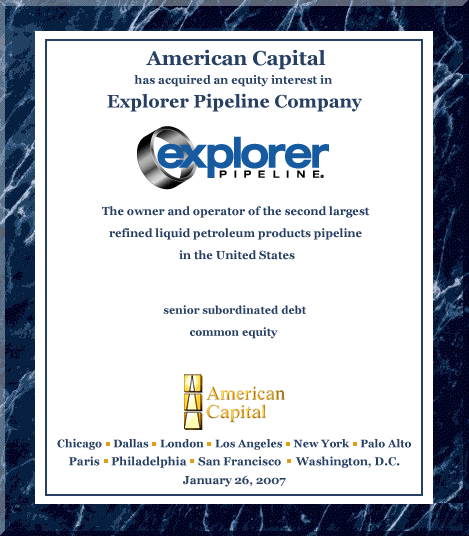 This announcement appears as a matter of record only.
Contact:
Michael Gee, Principal, Energy Group (214) 273-6667
Todd Friant, Vice President, Energy Group (214) 273-6661
Brian Maney, Director, Corporate Communications (301) 951-6122
SOURCE: American Capital Ltd.
www.americancapital.com