News
News Release
<< Back
American Capital Invests Up to $151 Million in Portfolio Company Schoor DePalma
Bethesda, MD - May 18, 2006 - American Capital Strategies Ltd. (Nasdaq:ACAS) announced today it has invested up to $151 million in its portfolio company Schoor DePalma Inc. to support Schoor DePalma's acquisition of CMX Inc. and to recapitalize the combined entity. Schoor DePalma is a leading diversified provider of design and engineering services. CMX is a leading provider of engineering and consulting services in the southwestern United States. American Capital's investment takes the form of a revolving credit facility and a unitranche debt facility. Trivest Partners L.P. is the majority owner of Schoor DePalma.
"CMX represents a unique and exciting investment opportunity for Schoor DePalma and we're pleased to play a part in this transaction," said American Capital Regional Managing Director Brian Graff. "Our additional investment in Schoor DePalma demonstrates American Capital's ability to work closely with private equity firms and management teams to build our portfolio companies, both organically and through strategic add-on acquisitions."
American Capital has invested approximately $3.8 billion in the last twelve months, approximately $1.4 billion year to date and $581 million quarter to date. These amounts do not include American Capital's unfunded equity commitment to its affiliate European Capital. For more information about American Capital's portfolio click here.
"The combination of Schoor DePalma and CMX results in one of the largest U.S. engineering firms with a national scale platform of 22 offices in six states and Mexico and more than 1,000 personnel. Given the highly fragmented engineering marketplace, the combined company's scale and one-stop capabilities will play a significant role in attracting national accounts and hiring top talents," said American Capital Principal Dale Stohr. "In addition, the combined entity will benefit from an expanded product offering, cross-selling opportunities and geographic and customer diversity."
"CMX has differentiated itself by getting client projects through the regulatory entitlement process quickly, providing one-stop engineering services on complex projects, and therefore accelerating the speed of project completion," said American Capital Vice President Helen Yang. "Built on superior customer satisfaction, long-term relationships and a solid reputation for on-time, on-budget completion, CMX has a history of generating financial results that consistently exceed comparable firms."
American Capital first invested in Schoor DePalma in August 2004. Founded in 1968, Manalapan, NJ headquartered Schoor DePalma is a single-source provider of design and engineering services to the commercial and government sectors. The Company provides a wide range of services through its 13 divisions: real estate, environmental, facilities, traffic and planning, municipal services, water resources, transportation, construction engineering services and telecommunications. Services include those related to all phases of commercial, corporate and residential development. The Company's customers include municipalities, boards, agencies, authorities, bi-state authorities and companies in various industries such as real estate development, insurance, banking, utilities, telecommunications, healthcare and construction. Schoor DePalma has 17 regional offices in New Jersey, New York, Pennsylvania, Maryland, Florida and Arizona.
CMX is one of the largest multidiscipline engineering firms in the state of Arizona. CMX offers a diversified range of products including civil engineering, construction management, land planning, water resources, survey and sports facility consultation to clients in both private and public sectors. Over the last five years, the Company has grown its sales by a compounded annual growth rate of 20%. The Phoenix, AZ headquartered company was founded in 1986 and has four offices in Arizona and one in Mexico.
"Given our previous work with American Capital, we were confident that they would be capable and willing to partner with us again to support Schoor DePalma's acquisition of CMX and the combined entity's recapitalization," said Trivest Partners Partner and Chief Operating Officer Troy D. Templeton. "American Capital's ability to provide a full capital structure solution helped us accomplish this transaction in a tight time frame, and will prove helpful for the Company as it builds on both Schoor DePalma's and CMX's strong leaderships in their respective markets."
ABOUT AMERICAN CAPITAL
American Capital is a publicly traded buyout and mezzanine fund with capital resources of approximately $7 billion. American Capital invests in and sponsors management and employee buyouts, invests in private equity buyouts, provides capital directly to private and small public companies and through its asset management business is a manager of debt and equity investments in private companies and commercial loan obligations. American Capital provides senior debt, mezzanine debt and equity to fund growth, acquisitions, recapitalizations and securitizations.
As of December 31, 2005, American Capital shareholders have enjoyed a total return of 405% since the Company's IPO - an annualized return of 21%, assuming reinvestment of dividends. American Capital has paid a total of $868 million in dividends and paid $20.73 dividends per share since its August 1997 IPO at $15 per share.
Companies interested in learning more about American Capital's flexible financing should contact Mark Opel, Senior Vice President, Business Development, at (800) 248-9340, or visit our website.
ABOUT TRIVEST PARTNERS
Trivest Partners is a Miami, FL based private investment firm and leading provider of equity for middle market corporate acquisitions, recapitalizations and growth capital financings. Since its founding in 1981, Trivest Partners has sponsored more than 125 acquisitions and recapitalizations, totaling in excess of $2.7 billion in value. Trivest invests primarily in four market segments - consumer products, business services, niche manufacturers and healthcare companies. Trivest's portfolio of investments include Magic Holdings LLC, Canada's leading franchisor of personal health counseling centers, primarily for weight loss; Superior International Inc., a manufacturer and distributor of commercial playground equipment and components; and Directed Electronics, a designer and marketer of consumer brand name car security and convenience systems. American Capital supported Trivest's recapitalization of Directed Electronics.
Performance data quoted above represents past performance of American Capital. Past performance does not guarantee future results and the investment return and principal value of an investment in American Capital will likely fluctuate. Consequently, an investor's shares, when sold, may be worth more or less than their original cost. Additionally, American Capital's current performance may be lower or higher than the performance data quoted above.
This press release contains forward-looking statements. The statements regarding expected results of American Capital Strategies are subject to various factors and uncertainties, including the uncertainties associated with the timing of transaction closings, changes in interest rates, availability of transactions, changes in regional, national or international economic conditions, or changes in the conditions of the industries in which American Capital has made investments.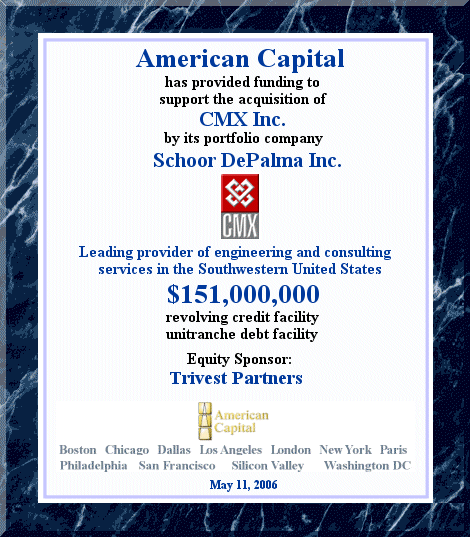 This announcement is neither an offer to sell nor a solicitation to buy securities.
This announcement appears as a matter of record only.
Contact:
Dale Stohr, Principal (212) 213-2009
Helen Yang, Vice President (212) 213-2009
Brian Maney, Director, Corporate Communications (301) 951-6122
SOURCE: American Capital Ltd.
www.americancapital.com