News
News Release
<< Back
American Capital Invests $15 Million in Leading Direct Marketer of Women's Apparel
Bethesda, MD - April 6, 2006 - American Capital Strategies Ltd. (Nasdaq:ACAS) announced today it has invested $15 million in the debt refinancing of Appleseed's Inc., a leading specialty brand of private label apparel and coordinated accessories exclusively focused on serving the baby boomer female demographic. American Capital's investment takes the form of secured senior subordinated debt and will be used to refinance a bridge loan held by TD Banknorth Inc., as well as for general working capital purposes. Appleseed's management retains a significant equity interest and continues to manage the Company. Golden Gate Capital is the majority owner of Appleseed's.
"We are pleased to have the opportunity to work again with Golden Gate, a successful private equity firm that has considerable experience investing in specialty women's apparel catalog companies such as Appleseed's," said American Capital Regional Managing Director Darin Winn. "Golden Gate's complementary catalog businesses are anticipated to give Appleseed's access to increased purchasing power, significant offshore sourcing expertise, cross-prospecting and the sharing of best practices. Golden Gate's experience, combined with the strength and breadth of Appleseed's management team, places Appleseed's in a favorable position for growth."
American Capital has invested approximately $3.6 billion in the last twelve months and over $700 million year to date. These amounts do not include American Capital's unfunded equity commitment and debt funded to its portfolio company European Capital. For more information about American Capital's portfolio, click here.
"We are investing in one of the leading brands in the attractive segment of the women's apparel market serving the female baby boomer demographic, the largest and increasingly significant demographic group in the U.S.," said American Capital Vice President Natasha Volyanskaya. "As a well-known brand and one of the few focused solely on this demographic, Appleseed's has developed proprietary customer knowledge and valuable market intelligence that provide the Company with a unique insight into its consumers' style preferences, shopping behavior, attitudes and lifestyle interests. This deep understanding of the market has enabled Appleseed's to establish a large, loyal and growing core customer base."
Founded in 1946 and headquartered in Beverly, MA, Appleseed's is one of the leading specialty brands of private label apparel and coordinated accessories exclusively focused on serving a distinct customer profile within the baby boomer female market: a well-educated, suburban woman who is interested in wearing brands that offer reliable comfort and fit with a classic, tailored style. In addition to its Appleseed's and The Tog Shop catalogs, the Company offers apparel and accessories products through its website www.appleseeds.com and retail stores located in Massachusetts and Rhode Island. Pictured here is the Appleseed's Spring 2006 catalog.
"Golden Gate Capital recently worked with American Capital in the recapitalization of our portfolio company Inovis and we were greatly impressed with their execution," said Golden Gate Capital Managing Director Stefan Kaluzny. "We turned to American Capital as our mezzanine partner for the refinancing of Appleseed's and again, they delivered on their commitments with efficiency, flexibility and professionalism."
For more information about Appleseed's, click here.
ABOUT AMERICAN CAPITAL
American Capital is a publicly traded buyout and mezzanine fund with capital resources of approximately $7 billion. American Capital invests in and sponsors management and employee buyouts, invests in private equity buyouts, provides capital directly to early stage and mature private and small public companies and through its asset management business is a manager of debt and equity investments in private companies. American Capital provides senior debt, mezzanine debt and equity to fund growth, acquisitions, recapitalizations and securitizations. American Capital can invest up to $300 million per company.
As of March 31, 2006, American Capital shareholders have enjoyed a total return of 409% since the Company's IPO - an annualized return of 21%, assuming reinvestment of dividends. American Capital has paid a total of $1 billion in dividends and paid $19.91 dividends per share since its August 1997 IPO at $15 per share.
Companies interested in learning more about American Capital's flexible financing should contact Mark Opel, Senior Vice President, Business Development, at (800) 248-9340, or visit our website.
ABOUT GOLDEN GATE CAPITAL
Golden Gate Capital is a San Francisco-based private equity investment firm with approximately $2.5 billion of capital under management. In addition to Appleseed's, Golden Gate's consumer products portfolio investments include Draper's & Damon's, a leading retailer of quality apparel serving woman aged 50 and older; Newport News, a dual-channel, direct marketer of moderately priced women's fashions; and Spiegel, a dual-channel direct marketer of fashion forward women's apparel and accessories.
Performance data quoted above represents past performance of American Capital. Past performance does not guarantee future results and the investment return and principal value of an investment in American Capital will likely fluctuate. Consequently, an investor's shares, when sold, may be worth more or less than their original cost. Additionally, American Capital's current performance may be lower or higher than the performance data quoted above.
This press release contains forward-looking statements. The statements regarding expected results of American Capital are subject to various factors and uncertainties, including the uncertainties associated with the timing of transaction closings, changes in interest rates, availability of transactions, changes in regional, national or international economic conditions, or changes in the conditions of the industries in which American Capital has made investments.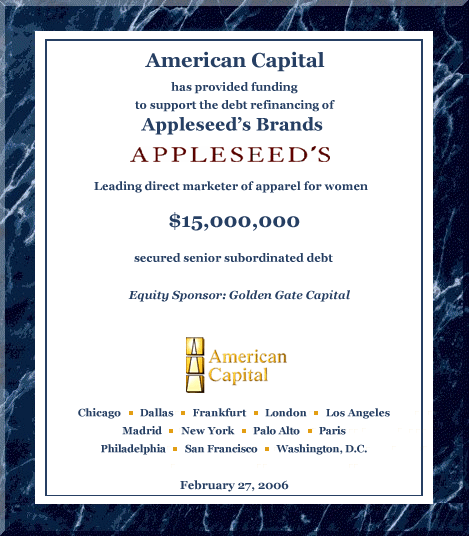 Contact:
Natasha Volyanskaya, Vice President (415) 591-0120
Brian Maney, Director, Corporate Communications (301) 951-6122
SOURCE: American Capital Ltd.
www.americancapital.com