News
News Release
<< Back
American Capital Invests $31 Million in Buyout of Astrodyne Corporation
Bethesda, MD - May 9, 2005 - American Capital Strategies Ltd. (Nasdaq:ACAS) announced today it has invested $31 million in the buyout of Astrodyne Corporation, a manufacturer and distributor of AC/DC power supplies and DC/DC converters. American Capital's investment takes the form of a senior term loan, senior subordinated debt and convertible preferred equity. American Capital is also providing a revolving credit facility. Astrodyne's senior management rolled over a portion of their equity. Post close, American Capital owns 81% of Astrodyne on a fully diluted basis.
"Astrodyne is our fifth buyout of 2005. Our buyout expertise and one-stop financing capability make us a preferred investment partner for management teams," said American Capital COO Ira Wagner. "We were particularly attracted to Astrodyne because of its differentiated business model, which allows it to provide a high level of service to smaller orders."
American Capital has invested over $2.4 billion in the last twelve months, over $700 million year to date and over $300 million quarter to date. For more information about American Capital's portfolio, click here.
"Astrodyne is a niche player within the power electronics industry. The Company's brand recognition, focus on small, customized orders, extensive product offering, rapid delivery fulfillment and catalog ubiquity distinguishes it from competition and positions it for continued growth," said American Capital Principal Jon Isaacson. "We're looking forward to working with management to add-value through various strategic initiatives."
Founded in 1992, Taunton, MA-headquartered Astrodyne is a manufacturer and distributor of AC/DC power supplies and DC/DC converters for telecommunication, computer and industrial applications. AC/DC power supplies convert alternating current ("AC") from a power source into a direct current ("DC"), whereas DC/DC converters modify DC voltage levels to meet the power needs of electrical equipment. Astrodyne offers more than 2,000 application-specific SKUs under the Astrodyne brand name and markets its products primarily through its direct mail catalogs and its website www.astrodyne.com. Astrodyne's products are sold to over 5,000 customers, including Fortune 500 companies such as General Electric Company (NYSE:GE), Sanmina-SCI Corporation (Nasdaq: SANM), Tyco International Ltd. (NYSE: TYC), Teledyne Technologies Inc. (NYSE: TDY) and Abbott Laboratories (NYSE:ABT). In addition to its headquarters, the Company also operates a manufacturing joint venture in Taiwan, Astrodyne Pacific.
"American Capital was exactly the financial partner we sought. They took the time to fully understand our business model and future goals and are providing us with a solid foundation for implementing our strategic initiatives," said Astrodyne Vice President, Sales & Marketing, Bob Butler.
"We're looking forward to collaborating with American Capital and pursuing growth opportunities," said Astrodyne Vice President, Finance, Alex Pappas. "Their strong financial backing and track record of growing manufacturing companies places us in an excellent position to excel."
ABOUT AMERICAN CAPITAL
American Capital is a publicly traded buyout and mezzanine fund with capital resources of approximately $5.2 billion. American Capital is an investor in and sponsor of management and employee buyouts, invests in private equity buyouts, and provides capital directly to private and small public companies. American Capital provides senior debt, mezzanine debt and equity to fund growth, acquisitions and recapitalizations.
As of April 30, 2005, American Capital shareholders have enjoyed a total return of 323% since the Company's IPO - an annualized return of 21%, assuming reinvestment of dividends. American Capital has paid a total of $717 million in dividends and paid or declared $17.51 dividends per share since its August 1997 IPO at $15 per share.
Companies interested in learning more about American Capital's flexible financing should contact Mark Opel, Senior Vice President, Business Development, at (800) 248-9340, or visit our website.
Performance data quoted above represents past performance of American Capital. Past performance does not guarantee future results and the investment return and principal value of an investment in American Capital will likely fluctuate. Consequently, an investor's shares, when sold, may be worth more or less than their original cost. Additionally, American Capital's current performance may be lower or higher than the performance data quoted above.
This press release contains forward-looking statements. The statements regarding expected results of American Capital Strategies are subject to various factors and uncertainties, including the uncertainties associated with the timing of transaction closings, changes in interest rates, availability of transactions, changes in regional, national or international economic conditions, or changes in the conditions of the industries in which American Capital has made investments.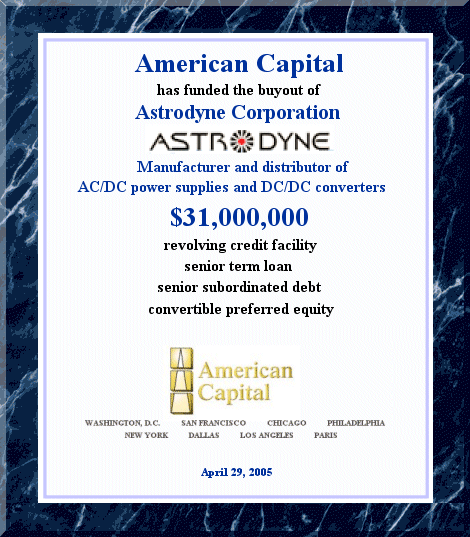 This announcement is neither an offer to sell nor a solicitation to buy securities.
This announcement appears as a matter of record only.
Contact:
Jon Isaacson, Principal (301) 951-6122
Brian Maney, Director, Corporate Communications (301) 951-6122
SOURCE: American Capital Ltd.
www.americancapital.com