News
Portfolio Company Press Release
<< Back
American Capital Invests $11.5 Million in Portfolio Company HomeAway to Support Growth and Additional Add-On Acquisition
Bethesda, MD – October 2, 2007 - American Capital Strategies Ltd. (Nasdaq: ACAS) announced today that on August 27 it invested an additional $11.5 million in its portfolio company HomeAway Inc. to support HomeAway's continued growth, which includes the recent acquisition of Owners Direct Holiday Rentals, an online vacation rental listing marketplace based in the U.K. With the acquisition of Owners Direct, HomeAway strengthens its market position as the world leader in online "for-rent-by-owner" vacation home rentals. American Capital's investment took the form of a senior term unirate loan.
"We are pleased to be once again supporting HomeAway's growth through another complementary add-on acquisition," said Gordon O'Brien, American Capital Managing Director. "Since our first investment in HomeAway in 2006, American Capital has now invested $119.5 million in debt and equity financing to support HomeAway's continued expansion. Our additional investment in HomeAway demonstrates American Capital Technology Group's commitment to growing and adding value to its portfolio companies."
American Capital has invested directly and through its funds under management approximately $10.5 billion in the last twelve months, over $8.3 billion year to date and approximately $2 billion in the third quarter. Not including funds under management, American Capital has invested approximately $7.7 billion in the last twelve months, approximately $6 billion year to date and over $1.4 billion in the third quarter. For more information about American Capital's portfolio, please go to www.americancapital.com/our_portfolio/our_portfolio.html.
"As the Technology Group continues to expand its portfolio, the advantages of American Capital's one stop financing capabilities and certainty of close are repeatedly reinforced," said Virginia M. Turezyn, American Capital Managing Director, Technology Group. "These capabilities provided HomeAway with the capital necessary to acquire Owners Direct at an excellent time, considering the large and rapidly growing market for online vacation rentals."
"HomeAway is already the leading operator of online vacation rental marketplaces with more than 240,000 paid listings located in 100 countries throughout the world ," said Nathan Horvath, American Capital Vice President, Technology Group. "More than 100 million travelers will visit HomeAway's websites this year, and according to Nielsen Net Ratings, more than 65 percent of travelers looking for a vacation rental now turn to HomeAway. The acquisition of Owners Direct, with its history of strong financial and operational performance and large database of property listings, will increase HomeAway's global market position as the largest paid vacation listing network in the world."
American Capital first invested in HomeAway in 2006 and again in February 2007. HomeAway's portfolio of vacation rental websites includes HomeAway.com, VRBO.com, VacationRentals.com, CyberRentals.com, Holiday-Rentals.co.uk, GreatRentals.com, A1Vacations.com, FeWo-direkt.de, TripHomes.com, VacationVillas.net, Abritel.fr, HolidayRentals.fr, as well as OwnersDirect.co.uk. HomeAway enables property owners and managers to list properties available for rental on any or all of its websites by submitting online descriptions, photos, pricing, availability, contact and other information. Formed in 2005, HomeAway is headquartered in Austin, TX and maintains a call center in Hardy, VA, European headquarters in Acton, U.K., and offices in Kassel, Germany and Marseilles, France.
Founded in 1997, the Ashtead, U.K.-based Owners Direct Holiday Rentals operates an online vacation rental listing marketplace for primarily European properties. Owners Direct's website features over 17,000 paid online listings with detailed property information and photographs.
For more information about American Capital's investments in HomeAway, please go to www.americancapital.com/our_portfolio/companies/homeaway.html
ABOUT THE AMERICAN CAPITAL TECHNOLOGY GROUP
The American Capital Technology Group invests in early, middle and late stage technology companies. With the flexibility to invest in equity and debt from $5 million to $800 million, the American Capital Technology Group can provide its capital base and domain expertise to build category-leading, technology companies.
American Capital and its affiliate American Capital Equity Fund I LLC have approximately $2.8 billion in technology investments in its existing portfolio. These companies generally are mature, high performing, cash flowing companies with excellent growth rates. They operate across many industry sectors and are driven by a broad range of technologies. The Technology Group extends American Capital's existing technology investment business by investing in earlier stage technology companies.
ABOUT AMERICAN CAPITAL
American Capital is the only alternative asset management company that is a member of the S&P 500. With $16 billion in assets under management(1), American Capital is the largest U.S. publicly traded private equity fund and one of the largest publicly traded alternative asset managers. American Capital, both directly and through its global asset management business, is an investor in management and employee buyouts, private equity buyouts, and early stage and mature private and public companies. American Capital provides senior debt, mezzanine debt and equity to fund growth, acquisitions, recapitalizations and securitizations. American Capital and its affiliates invest from $5 million to $800 million per company in North America and €5 million to €500 million per company in Europe.
As of September 30, 2007, American Capital shareholders have enjoyed a total return of 596% since the Company's IPO—an annualized return of 21%, assuming reinvestment of dividends. American Capital has paid a total of $1.9 billion in dividends and paid $25.16 dividends per share since going public in August 1997 at $15 per share.
Companies interested in learning more about American Capital's flexible financing should contact Mark Opel, Senior Vice President, Business Development, at (800) 248-9340, or visit www.AmericanCapital.com or www.EuropeanCapital.com.
Performance data quoted above represents past performance of American Capital. Past performance does not guarantee future results and the investment return and principal value of an investment in American Capital will likely fluctuate. Consequently, an investor's shares, when sold, may be worth more or less than their original cost. Additionally, American Capital's current performance may be lower or higher than the performance data quoted above.
This press release contains forward-looking statements. The statements regarding expected results of American Capital Strategies are subject to various factors and uncertainties, including the uncertainties associated with the timing of transaction closings, changes in interest rates, availability of transactions, changes in regional, national or international economic conditions, or changes in the conditions of the industries in which American Capital has made investments.
(1) Assets Under Management is an estimate of internally and externally managed assets as of August 31, 2007 and does not include any fair value adjustments subsequent to June 30, 2007.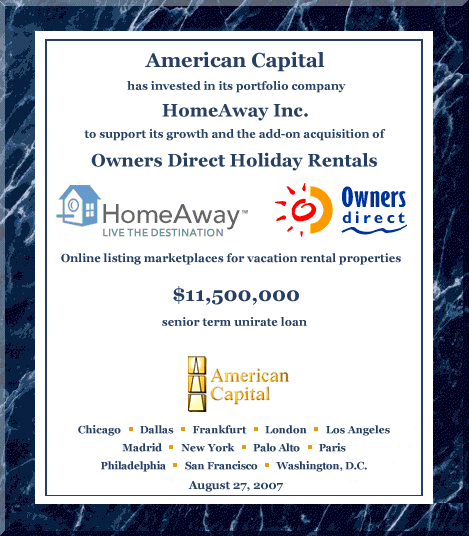 This announcement is neither an offer to sell nor a solicitation to buy securities.
This announcement appears as a matter of record only.
Contact:
Virginia M. Turezyn, Managing Director, Technology Group (650) 289-4561
Nathan Horvath, Vice President, Technology Group (650) 289-4569
Brian Maney, Director, Corporate Communications (301) 951-6122
SOURCE: American Capital Ltd.
www.americancapital.com