News
Portfolio Company Press Release
<< Back
American Capital Invests in One Stop Buyout™ of Imaging Business Machines
Bethesda, MD – June 22, 2007 – American Capital Strategies Ltd. (Nasdaq: ACAS) announced today that it and an affiliate have invested in the One Stop Buyout™ of Imaging Business Machines LLC ("IBML"), a leading provider of high speed, intelligent document scanning hardware and software, as well as recurring support and maintenance services. American Capital's investment takes the form of a first lien term loan, senior subordinated debt, convertible preferred equity and common equity. American Capital is also providing a revolving credit facility. American Capital Equity Fund I LLC, a fund managed by American Capital, provided 30% of the American Capital equity investment. Imaging Business Machines' management team is also investing in the preferred and common equity.
"We are delighted to be investing in Imaging Business Machines, whose experienced and deep management team has made it the leader in the high end high volume document processing and image scanning market," said Darin Winn, American Capital Regional Managing Director. "Our flexibility in responding to the evolving requirements of the sellers and our ability to fund across the capital structure facilitated this transaction and secured this excellent investment opportunity."
American Capital has invested directly and through its funds under management $8.7 billion in the last twelve months, $4.6 billion year to date and approximately $3 billion quarter to date. Not including funds under management, American Capital has invested $6.1 billion in the last twelve months, $3.1 billion year to date and approximately $2 billion quarter to date. For more information about American Capital's portfolio, please go to www.americancapital.com/our_portfolio/our_portfolio.html.
"Imaging Business Machines is at the forefront of the document processing and image scanning market whose growth is being driven by the scanning needs of the health care and financial services industries as well as of federal and state governments," said Jeff MacDowell, American Capital Managing Director. "IBML is widely viewed as the quality leader and the innovator for this high end scanning technology. IBML has strong and established relationships with resellers, integrators and business processing outsourcers, providing it with a diversified and growing customer base."
"IBML's premier products—the ImageTrac® lll and ImageTrac lV—possess outstanding capabilities in handling a wide range of document types, sizes and textures, in sorting documents into discrete pockets, in data extraction, in ease of maintenance and in speed. These capabilities provide a strong value proposition to its customers, producing invaluable efficiencies for users and rapid payback periods," said Adam Stern, American Capital Vice President. "With its growing reseller relationships, widening reputation and its commitment to ongoing research and development, IBML is positioned to win substantial new business."
Imaging Business Machines' ImageTrac Scanning Platform possesses open-track transports and inline software and pocketing capabilities. The Company's software enables the execution of rules-based applications, the recognition of a wide variety of documents and the ability to send data collected from the scanning process to end users' back-end systems. IBML also provides support and maintenance to its extensive installed base of scanning equipment. Founded in 1992 by Gary Murphy, IBML is headquartered in Birmingham, AL and has sales and support offices in Konstanz, Germany and Guilford, UK.
"This is a very exciting time at IBML," said Derrick Murphy, Imaging Business Machines President and CEO. "With American Capital's investment in IBML, we are positioned to take advantage of their investment management expertise and combine it with our experienced executive team to maximize the growth potential of IBML. With the strength of American Capital, we will expand the reach of our products and services, building on our leadership in the industry."
ABOUT AMERICAN CAPITAL
American Capital is the second largest U.S. publicly traded alternative asset manager with $12 billion in assets under management (second to Fortress (NYSE: FIG)). American Capital, both directly and through its global asset management business, is an investor in management and employee buyouts, private equity buyouts, and early stage and mature private and public companies. American Capital provides senior debt, mezzanine debt and equity to fund growth, acquisitions, recapitalizations and securitizations. American Capital and its affiliates invest from $5 million to $800 million per company in North America and €5 million to €500 million per company in Europe.
As of May 31, 2007, American Capital shareholders have enjoyed a total return of 656% since the Company's IPO—an annualized return of 23%, assuming reinvestment of dividends. American Capital has paid a total of $1.6 billion in dividends and paid or declared $24.24 dividends per share since going public in August 1997 at $15 per share.
Companies interested in learning more about American Capital's flexible financing should contact Mark Opel, Senior Vice President, Business Development, at (800) 248-9340, or visit www.AmericanCapital.com or www.EuropeanCapital.com.
Performance data quoted above represents past performance of American Capital. Past performance does not guarantee future results and the investment return and principal value of an investment in American Capital will likely fluctuate. Consequently, an investor's shares, when sold, may be worth more or less than their original cost. Additionally, American Capital's current performance may be lower or higher than the performance data quoted above.
This press release contains forward-looking statements. The statements regarding expected results of American Capital are subject to various factors and uncertainties, including the uncertainties associated with the timing of transaction closings, changes in interest rates, availability of transactions, changes in regional, national or international economic conditions, or changes in the conditions of the industries in which American Capital has made investments.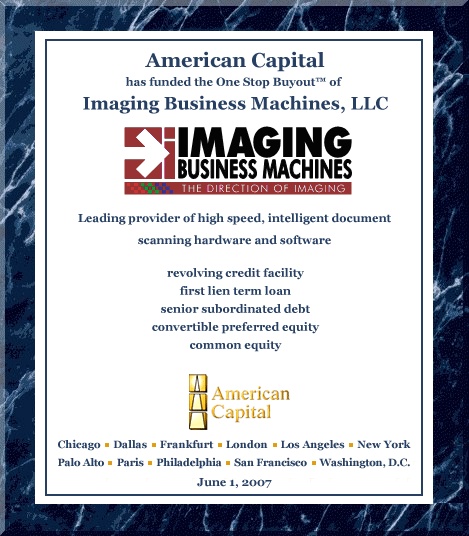 This announcement is neither an offer to sell nor a solicitation to buy securities. This announcement appears as a matter of record only.
Contact:
Jeff MacDowell, Managing Director (214) 273-6633
Adam Stern, Vice President (214) 273-6660
Brian Maney, Director, Corporate Communications (301) 951-6122
SOURCE: American Capital Ltd.
www.americancapital.com