News
Portfolio Company Press Release
<< Back
American Capital Invests $4.5 Million in Coghead
Bethesda, MD - April 16, 2007- American Capital Strategies Ltd. (Nasdaq: ACAS) announced today that in the fourth quarter of 2006 it led an $8 million investment round in Coghead Inc., which included a $4.5 million equity investment by American Capital and its affiliate American Capital Equity Fund I LLC ("ACE"). ACE, a fund managed by American Capital, provided 30% of the American Capital equity investment. Coghead provides a web-based platform that enables tech-savvy businesspeople to create, manage and deliver their own web-based applications. SAP Ventures and existing Coghead investor El Dorado Ventures also participated in the American Capital led financing.

"We are investing in a cutting edge company that is filling a critical, but underserved niche in software services. Coghead, emerging from its development phase, is led by a management team that has outstanding experience and demonstrated success in executing similar business models," said Gordon O'Brien, American Capital Managing Director. "Coghead is an excellent addition to our Technology Group's growing portfolio. This investment, providing growth capital to support the launch of Coghead's commercial phase, demonstrates the Group's broad capabilities in investing from early to more mature stage companies."

American Capital has invested directly and through its funds under management $7.3 billion in the last twelve months and $1.5 billion in 2007 year to date. Not including funds under management, American Capital has invested $5.6 billion in the last twelve months and over $1 billion in 2007 year to date. For more information about American Capital's portfolio, please go to www.americancapital.com/our_portfolio/our_portfolio.html.

"Coghead has developed an innovative solution to meet the rapidly growing demand from small and medium size businesses and corporate work groups for affordable customized software," said Virginia M. Turezyn, American Capital Managing Director, Technology Group.

"The Coghead platform does not create additional strain on already overtaxed IT infrastructures," said Matt Bigge, American Capital Vice President, Technology Group. "In addition to selling directly to end users and through affiliates, Coghead anticipates building strong strategic partnerships, as evidenced by the SAP Ventures investment, to accelerate the adoption of its platform."

Formed in 2004, Coghead provides a web-based platform that enables tech-savvy nonprogrammers to develop and field light business applications. The Company also provides a marketplace for users to develop and market their applications to other users. Coghead is headquartered in Redwood City, CA.

"We are delighted that American Capital is investing in the next phase of Coghead's development," said Paul McNamara, Coghead CEO. "American Capital's appreciation of our business model and its financing solution provide invaluable support as we move into the commercial launch of our leading edge software application platform."

ABOUT AMERICAN CAPITAL TECHNOLOGY

The American Capital Technology Group invests in early, middle and late stage technology companies. With the flexibility to invest senior debt, subordinated debt and equity from $5 million to $800 million, the American Capital Technology Group can provide its capital base and domain expertise to build category-leading, technology companies.

American Capital and its affiliate American Capital Equity Fund I LLC have approximately $2 billion in technology investments in its existing portfolio. These companies generally are mature, high performing, cash flowing companies with excellent growth rates. They operate across many industry sectors and are driven by a broad range of technologies. The Technology Group extends American Capital's existing technology investment business by investing in earlier stage technology companies.

ABOUT AMERICAN CAPITAL

American Capital is the second largest U.S. publicly traded alternative asset manager with approximately $11 billion in assets under management (second to Fortress (NYSE: FIG)). American Capital, both directly and through its global asset management business, is an investor in management and employee buyouts, private equity buyouts, and early stage and mature private and public companies. American Capital provides senior debt, mezzanine debt and equity to fund growth, acquisitions, recapitalizations and securitizations. American Capital and its affiliates invest from $5 million to $800 million per company in North America and €5 million to €400 million per company in Europe.

As of March 31, 2007, American Capital shareholders have enjoyed a total return of 592% since the Company's IPO - an annualized return of 22%, assuming reinvestment of dividends. American Capital has paid a total of $1.6 billion in dividends and paid $23.33 dividends per share since going public in August 1997 at $15 per share.

Companies interested in learning more about American Capital's flexible financing should contact Mark Opel, Senior Vice President, Business Development, at (800) 248-9340, or visit www.AmericanCapital.com or www.EuropeanCapital.com.

Performance data quoted above represents past performance of American Capital. Past performance does not guarantee future results and the investment return and principal value of an investment in American Capital will likely fluctuate. Consequently, an investor's shares, when sold, may be worth more or less than their original cost. Additionally, American Capital's current performance may be lower or higher than the performance data quoted above.

This press release contains forward-looking statements. The statements regarding expected results of American Capital are subject to various factors and uncertainties, including the uncertainties associated with the timing of transaction closings, changes in interest rates, availability of transactions, changes in regional, national or international economic conditions, or changes in the conditions of the industries in which American Capital has made investments.

This announcement is neither an offer to sell nor a solicitation to buy securities.
This announcement appears as a matter of record only.

Contact: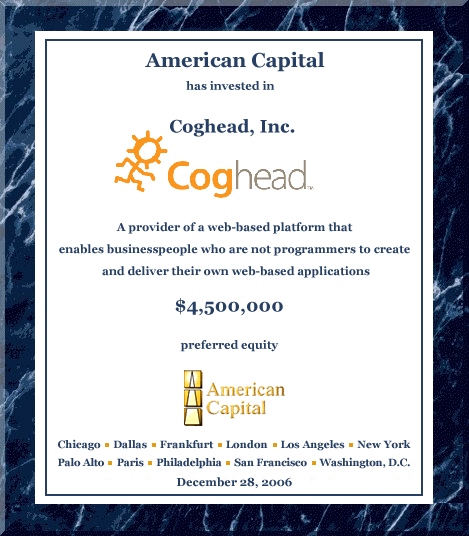 Virginia M. Turezyn, Managing Director, Technology Group (650) 289-4560
Matt Bigge, Vice President, Technology Group (650) 289-4560
Brian Maney, Director, Corporate Communications (301) 951-6122
SOURCE: American Capital Ltd.
www.americancapital.com