News
Portfolio Company Press Release
<< Back
American Capital Commits $50 Million to First Capital
Bethesda, MD – October 31, 2006 – American Capital Strategies Ltd. (Nasdaq: ACAS) announced today it has provided financing of up to $50 million to support the growth of First Capital, a leading provider of secured, working capital financing for middle market companies. American Capital's investment takes the form of senior subordinated debt.

"We are very pleased to be investing in First Capital, a fast-growing provider of secured working capital financing for middle market companies that is led by a distinguished management team with decades of experience in the financial services sector," said Bob Grunewald, American Capital Managing Director of the Financial Services Group. "First Capital's loan portfolio has grown rapidly while maintaining a culture focused on credit quality and earning a reputation for first-class service. We are uniquely positioned to bring strategic benefits as well as debt and equity capital to our financial service investments and we look forward to working closely with First Capital as they continue to grow."

"First Capital is the first investment by our Financial Services Group, which was formed in May of this year," said John Erickson, American Capital Chief Financial Officer. "The Financial Services Group targets investments in middle market companies involved in consumer and commercial finance, insurance and asset management and companies providing products or services to these companies and First Capital perfectly fits the profile. Our Financial Services Group has generated a tremendous flow of opportunities and is taking advantage of American Capital's expertise in both middle market credit and structured finance."

First Capital was founded in 1988 and focuses primarily on providing traditional factoring and asset-based lending services. In addition, the Company serves as a discount factor for companies that do not qualify for typical asset-based lending or traditional factoring arrangements but have receivables from qualified account debtors and have demonstrated integrity in their business practices and products. First Capital's customers include manufacturers, distributors, importers and service companies with between $10 million and $100 million in sales. First Capital's headquarters are in West Palm Beach, FL. The Company has regional offices in Los Angeles, CA, Oklahoma City, OK, Kennesaw, GA, Ft. Lauderdale, FL, and New York, NY.

"We are delighted with American Capital's investment," said John Kiefer, First Capital Chief Executive Officer. "The breadth of expertise of the professionals in American Capital's Financial Services Group coupled with the Company's ability to invest across the capital structure and engage in possible future strategic partnerships makes American Capital ideally suited to support our short and long term growth."

ABOUT AMERICAN CAPITAL

American Capital is a publicly traded buyout and mezzanine fund with $11.5 billion in capital resources under management. American Capital invests in and sponsors management and employee buyouts, invests in private equity buyouts, provides capital directly to early stage and mature private and small public companies and through its asset management business is a manager of debt and equity investments in private companies. American Capital provides senior debt, mezzanine debt and equity to fund growth, acquisitions, recapitalizations and securitizations. American Capital invests from $5 million to $500 million per company.

As of September 30, 2006, American Capital shareholders have enjoyed a total return of 500% since the Company's IPO - an annualized return of 22%, assuming reinvestment of dividends. American Capital has paid a total of over $1.2 billion in dividends and paid $21.56 dividends per share since its August 1997 IPO at $15 per share.

Companies interested in learning more about American Capital's flexible financing should contact Mark Opel, Senior Vice President, Business Development, at (800) 248-9340, or visit www.AmericanCapital.com.

Performance data quoted above represents past performance of American Capital. Past performance does not guarantee future results and the investment return and principal value of an investment in American Capital will likely fluctuate. Consequently, an investor's shares, when sold, may be worth more or less than their original cost. Additionally, American Capital's current performance may be lower or higher than the performance data quoted above.

This press release contains forward-looking statements. The statements regarding expected results of American Capital are subject to various factors and uncertainties, including the uncertainties associated with the timing of transaction closings, changes in interest rates, availability of transactions, changes in regional, national or international economic conditions, or changes in the conditions of the industries in which American Capital has made investments.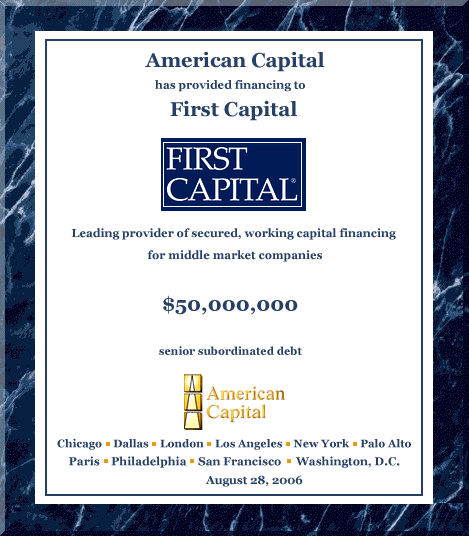 This announcement is neither an offer to sell nor a solicitation to buy securities.
This announcement appears as a matter of record only.
Contact:
Bob Grunewald, Managing Director, Financial Services Group (301) 951-6122
Brian Maney, Director, Corporate Communications (301) 951-6122
SOURCE: American Capital Ltd.
www.americancapital.com