News
Portfolio Company Press Release
<< Back
American Capital Invests $98 Million in One Stop Buyout of Leading Debt Collection Agency
Bethesda, MD - March 3, 2006 - American Capital Strategies Ltd. (Nasdaq:ACAS) announced today that in 2005 it invested $98 million in a One Stop BuyoutTM of Financial Asset Management Systems Inc. (FAMS), one of the leading U.S. debt collection agencies. American Capital's investment took the form of a revolving credit facility, senior term debt, senior and junior subordinated debt and equity. Jim Paxton, FAMS President and CEO, Jerry Hogan, FAMS Senior Vice President, and other key senior management personnel hold a minority equity investment. American Capital owns approximately 79% of FAMS, on a fully diluted basis.
"American Capital's ability to quickly and efficiently execute a One Stop BuyoutTM is assisting in the growth and development of a leading niche player in debt collection," said American Capital COO Ira Wagner. "We are pleased to invest in a leading company, with strong cash flows, in a growing industry."
American Capital invested approximately $3.2 billion in the last twelve months and $312 million year to date. These amounts do not include American Capital's unfunded equity commitment and debt funded to its portfolio company European Capital. For more information about American Capital's portfolio, click here.
"We're supporting a management team with significant industry experience and a history of working together," said American Capital Managing Director Jon Isaacson. "Attractive industry fundamentals, a stable revenue base and a reputation for quality and efficiency make FAMS an appealing investment."
"FAMS has significant opportunities to expand its customer base," said American Capital Principal Sean Eagle. "The nature of FAMS' business and its variable cost structure help to insulate it from any adverse affects arising from economic trends."
Founded in 1993 and headquartered in Atlanta, GA, FAMS employs over 500 in three facilities. FAMS operates two divisions, one devoted to the collection of defaulted student loans for the U.S. Department of Education under a series of long-term contracts, the other devoted to the collection of delinquent consumer receivables for a number of banking, telecommunications and state and municipal government customers.
"FAMS' mission is to provide our clients with excellent support, offer precise solutions to fulfill their unique needs and exceed their recovery expectations," said FAMS President and CEO Jim Paxton. "With American Capital's support, we are all very excited for FAMS' future. We have a strong senior management team, a motivated and competitive work force and a plan to add more than 200 positions in our Atlanta and St. Charles centers during 2006."
ABOUT AMERICAN CAPITAL
American Capital is a publicly traded buyout and mezzanine fund with capital resources of approximately $7 billion. American Capital invests in and sponsors management and employee buyouts, invests in private equity buyouts, provides capital directly to early stage and mature private and small public companies and through its asset management business is a manager of debt and equity investments in private companies and commercial loan obligations. American Capital provides senior debt, mezzanine debt and equity to fund growth, acquisitions, recapitalizations and securitizations. American Capital can invest up to $300 million per transaction.
As of January 31, 2006, American Capital shareholders have enjoyed a total return of 403% since the Company's IPO - an annualized return of 21%, assuming reinvestment of dividends. American Capital has paid a total of $961 million in dividends and paid $19.11 dividends per share since its August 1997 IPO at $15 per share.
Companies interested in learning more about American Capital's flexible financing should contact Mark Opel, Senior Vice President, Business Development, at (800) 248-9340, or visit our website.
Performance data quoted above represents past performance of American Capital. Past performance does not guarantee future results and the investment return and principal value of an investment in American Capital will likely fluctuate. Consequently, an investor's shares, when sold, may be worth more or less than their original cost. Additionally, American Capital's current performance may be lower or higher than the performance data quoted above.
This press release contains forward-looking statements. The statements regarding expected results of American Capital Strategies are subject to various factors and uncertainties, including the uncertainties associated with the timing of transaction closings, changes in interest rates, availability of transactions, changes in regional, national or international economic conditions, or changes in the conditions of the industries in which American Capital has made investments.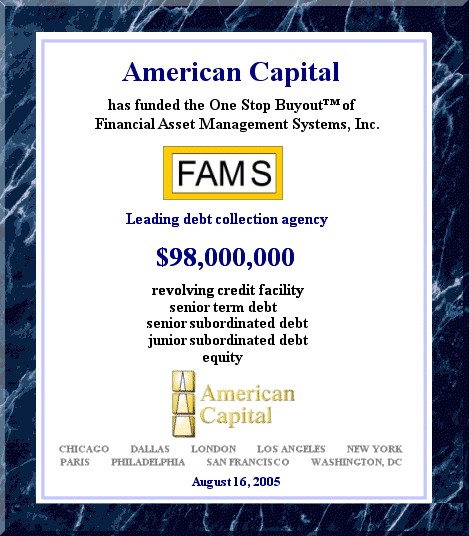 This announcement is neither an offer to sell nor a solicitation to buy securities.
This announcement appears as a matter of record only.
Contact:
Jon Isaacson, Managing Director (301) 951-6122
Sean Eagle, Principal (301) 951-6122
Brian Maney, Director, Corporate Communications (301) 951-6122
SOURCE: American Capital Ltd.
www.americancapital.com