News
Portfolio Company Press Release
<< Back
American Capital Invests $24 Million in Leading Provider of Hospice Services
Bethesda, MD - February 7, 2005 - American Capital Strategies Ltd. (Nasdaq:ACAS) announced today it has invested $24 million in Beacon Hospice, a leading provider of hospice services in New England. American Capital's investment takes the form of a revolving credit facility, senior term loan B and senior subordinated debt. Halpern Denny & Co. is the majority owner of Beacon. Beacon CEO Betty Brennan is investing in the equity and the Company's senior management will participate in a significant option pool.
"We believe that the healthcare services sector will continue to provide attractive investment opportunities and are pleased to be investing in Beacon, a company that provides quality hospice care in the New England region," said American Capital COO Ira Wagner. "We also continue to expand our network of relationships with private equity firms, with Halpern Denny becoming our 22nd new private equity relationship since the beginning of 2004."
American Capital invested approximately $2 billion in 2004, approximately $750 million in the fourth quarter of 2004 and has invested $115 million year to date. For more information about American Capital's portfolio, click here.
"Beacon Hospice is a compelling investment opportunity," said American Capital Principal Jon Isaacson. "Beacon occupies a leading position in a fragmented market with opportunities for expansion as well as significant barriers to entry. The Company's strong management team has succeeded in growing the company to its present stage, and we are exicted to be supporting them as they expand Beacon's quality hospice care."
Hospice care is utilized by patients who have been diagnosed with a terminal illness and have chosen, with the assistance of their doctors and families, to receive palliative care, counseling and only necessary healthcare services rather than curative care. Hospice care is provided at a number of locations, including private homes, hospitals, nursing facilities and hospice centers. Founded in 1995, Beacon Hospice is a leading provider of hospice services in New England. The Company provides a full range of services tailored to the individual needs of patients, including nursing care, physician visits, social worker visits, counseling, palliative care and radiation therapy in both institution-based and in-home settings. The Company has grown organically from a single Boston program in 1999 to ten programs across Massachusetts, Rhode Island, Maine and New Hampshire and has over 300 full and part time employees.
"American Capital lived up to its reputation for flexibility, creativity and hard work," said Halpern Denny Partner David Malm. "Their healthcare industry knowledge and expertise, especially within the hospice sector, provided the certainty that we needed in a partner and we look forward to working with them again."
ABOUT AMERICAN CAPITAL
American Capital is a publicly traded buyout and mezzanine fund with capital resources of more than $4.8 billion. American Capital is an investor in and sponsor of management and employee buyouts, invests in private equity buyouts, and provides capital directly to private and small public companies. American Capital provides senior debt, mezzanine debt and equity to fund growth, acquisitions and recapitalizations.
As of January 31, 2005, American Capital shareholders have enjoyed a total return of 335% since the Company's IPO - an annualized return of 22%, assuming reinvestment of dividends. American Capital has paid a total of $651 million in dividends and paid $16.03 dividends per share since its August 1997 IPO at $15 per share.
Companies interested in learning more about American Capital's flexible financing should contact Mark Opel, Senior Vice President, Business Development, at (800) 248-9340, or visit our website.
ABOUT HALPERN DENNY & CO.
Halpern Denny & Co. is a Boston-based private equity investment firm focusing on growth-oriented management buyouts and high growth, late stage expansion financings. The firm was founded in 1991 by former executives of Bain & Company and Bain Capital and has more than $600 million of committed capital. Portfolio companies include OnCURE Medical Corp., a provider of diagnostic and radiation treatment programs to cancer patients in freestanding centers; EnduraCare Therapy Management, a provider of outsourced rehabilitation therapy to long-term care facilities, hospitals and physician offices; Appleseed's, a direct marketer of classic apparel targeting mature women; and All Seasons Services Inc., a leading vending and dining service provider in the Northeast.
This press release contains forward-looking statements. The statements regarding expected results of American Capital Strategies are subject to various factors and uncertainties, including the uncertainties associated with the timing of transaction closings, changes in interest rates, availability of transactions, changes in regional, national or international economic conditions, or changes in the conditions of the industries in which American Capital has made investments.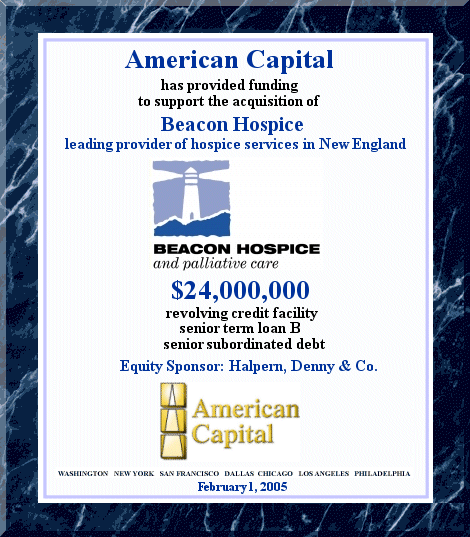 This announcement is neither an offer to sell nor a solicitation to buy securities.
This announcement appears as a matter of record only.
Contact:
Jon Isaacson, Principal (301) 951-6122
Brian Maney, Director, Corporate Communications (301) 951-6122
SOURCE: American Capital Ltd.
www.americancapital.com