News
Portfolio Company Press Release
<< Back
American Capital Invests $46 Million in Buyout of Hospitality Mints
Bethesda, MD - December 1, 2004 - American Capital Strategies Ltd. (Nasdaq:ACAS)announced today it has invested $46 million in Hospitality Mints LLC, a leading, vertically integrated niche provider of custom-imprinted and individually wrapped mints and candies. American Capital's investment takes the form of senior term debt, senior and junior subordinated debt with warrants and equity. Texas Capital Bank is providing a revolving loan facility and a senior term loan. Hospitality Mints management is investing in the equity. Post close, American Capital owns approximately 86% of Hospitality Mints on a diluted basis.
"Hospitality Mints is American Capital's ninth buyout in 2004," said COO Ira Wagner. "We are pleased to be backing a very well run company with an experienced management team that has excellent opportunities for growth."
American Capital has invested over $1.6 billion in the last twelve months, over $1.3 billion year to date and over $200 million quarter to date. For more information about American Capital's portfolio, click here.
"Hospitality Mints is led by a strong and incentivized management team, which has steered the company's steady growth and developed its large and diversified national customer base," said American Capital Principal Jeff MacDowell. "The company's small-run manufacturing capability and demonstrated ability to provide high-quality, custom products on rapid order turnarounds present significant competitive barriers and make Hospitality Mints a very attractive investment."
Based in Boone, NC and founded in 1978, Hospitality Mints employs 112 individuals and serves a customer base in excess of 6,000. Hospitality Mints products include soft and hard candies and mints, chocolate squares, bubblegum and jelly candies. The candies come in customized wrappers and packaging to convey the customer's marketing message and logo. The Company produces four million candies a day, or over 9 million pounds of candy annually, in 25 varieties at its Boone manufacturing facility. Customers include Sizzler, Ruth's Chris Steak House, Chick-fil-A, TGI Friday's and Burger King, among other household names.
"American Capital proved to be the financing source we required to establish a solid foundation for future growth," said Hospitality Mints President and CEO Allen Peterson. "We look forward to our collaboration."
American Capital is a publicly traded buyout and mezzanine fund with capital resources of approximately $4.8 billion. American Capital is an investor in and sponsor of management and employee buyouts, invests in private equity buyouts, and provides capital directly to private and small public companies. American Capital provides senior debt, mezzanine debt and equity to fund growth, acquisitions and recapitalizations.
As of November 30, 2004, American Capital shareholders have enjoyed a total return of 299% since the Company's IPO - an annualized return of 21%, assuming reinvestment of dividends. American Capital has paid a total of $583 million in dividends and paid or declared $15.97 dividends per share since its August 1997 IPO at $15 per share.
Companies interested in learning more about American Capital's flexible financing should contact Mark Opel, Principal and Senior Vice President, Business Development, at (800) 248-9340, or visit our website.
This press release contains forward-looking statements. The statements regarding expected results of American Capital Strategies are subject to various factors and uncertainties, including the uncertainties associated with the timing of transaction closings, changes in interest rates, availability of transactions, changes in regional, national or international economic conditions, or changes in the conditions of the industries in which American Capital has made investments.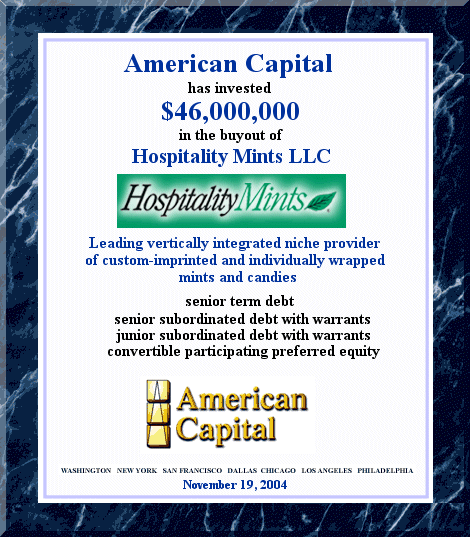 This announcement is neither an offer to sell nor a solicitation to buy securities.
This announcement appears as a matter of record only.
Contact:
Jeff MacDowell, Principal (214) 273-6633
Brian Maney, Director, Corporate Communications (301) 951-6122
SOURCE: American Capital Ltd.
www.americancapital.com