Bethesda, MD – September 4, 2008 – American Capital Ltd. (Nasdaq: ACAS) announced today that it provided $110 million of financing for YORK Label, a leading provider of premium, pressure sensitive labels for the consumer products, wine and spirits, food and beverage and pharmaceutical markets. American Capital invested $67 million in the transaction, while serving as Co-Syndication Agent on the senior debt and lead investor on the mezzanine debt. American Capital's financing package supports the acquisition of the company by Diamond Castle Holdings, LLC and takes the form of a term loan, senior and junior subordinated debt and a revolving credit facility. A portion of American Capital's senior debt investment was made in Canadian dollars.
"We are pleased to add another market-leading company to American Capital's strong portfolio," said Brian Graff, American Capital Senior Managing Director. "YORK Label holds the number one or number two market position in each of its targeted sub-markets and serves a customer base of blue-chip, Fortune 500 companies that are leaders in their industries. The Sponsor Finance group is excited to invest in this great business alongside our new investment partner, Diamond Castle Holdings."
American Capital, including its global fund management business, has approximately $20 billion in capital resources under management(1) and over 290 portfolio companies. American Capital has invested directly and through its global asset management business approximately $7.8 billion in the last twelve months, $5.3 billion year to date and $440 million quarter to date. Not including funds under management, American Capital has invested approximately $4.3 billion in the last twelve months, $2.2 billion year to date and $380 million quarter to date. American Capital assisted in the syndication of approximately $1.1 billion of senior debt for its portfolio companies in the last twelve months, $445.6 million year to date and $89.2 million quarter to date. For more information about American Capital's portfolio, please go to www.americancapital.com/our_portfolio/our_portfolio.html.
"YORK Label has a high quality, stable and diverse customer base," said Pankaj Gupta, American Capital Principal, Sponsor Finance. "The company has consistently increased revenue and EBITDA as a result of growing end-markets, increasing demand for pressure sensitive labels, further penetration of existing customers and by expanding its customer base."
"With its strong management team and positive industry fundamentals, YORK Label is poised for growth," said Brett Donelan, American Capital Vice President, Sponsor Finance. "There is a growing demand for premium, pressure sensitive labels and YORK Label's target markets are projected to grow at rates higher than the prime label industry average."
Omaha, Nebraska-based YORK Label is a leading provider of high quality, innovative labeling technologies to leading consumer goods, wine and spirits, pharmaceutical and food and beverage companies. The company has 14 state-of-the-art production facilities with approximately 800 employees throughout North and South America.
"We are excited to partner with American Capital for the first time," said Ari Benacerraf, Senior Managing Director, Diamond Castle Holdings. "Their ability to provide senior and mezzanine capital proved invaluable to us in these challenging markets. We look forward to enhancing our relationship with American Capital's dedicated team."
ABOUT AMERICAN CAPITAL
American Capital, with $20 billion in capital resources under management(1), is the only private equity fund and the largest alternative asset management company in the S&P 500. American Capital, both directly and through its global asset management business, originates, underwrites and manages investments in private equity, leveraged finance, real estate and structured products. American Capital and its affiliates invest from $5 million to $800 million per company in North America and €5 million to €500 million per company in Europe. American Capital was founded in 1986 and currently has 12 offices in the U.S. and Europe.
As of July 31, 2008, American Capital shareholders have realized a total return of 266% since the Company's IPO—an annualized return of 13%, assuming reinvestment of dividends. American Capital has paid a total of $2.5 billion in dividends and paid $29.25 dividends per share since going public in August 1997 at $15 per share.
Companies interested in learning more about American Capital's flexible financing should contact Mark Opel, Senior Vice President, Business Development, at (800) 248-9340, or visit http://www.AmericanCapital.com or www.EuropeanCapital.com.
ABOUT DIAMOND CASTLE HOLDINGS, LLC
Diamond Castle Holdings, LLC is a private equity firm with over $1.85 billion of committed capital under management. Founded in 2004 by five senior investment professionals from DLJ Merchant Banking Partners, Diamond Castle specializes in leveraged buyouts, growth capital and equity-like investments in both public and private companies. Diamond Castle targets investments in the following industry sectors: media and communications, energy and power, financial services, healthcare and diversified industries. Diamond Castle has 25 employees located in New York.
Performance data quoted above represents past performance of American Capital. Past performance does not guarantee future results and the investment return and principal value of an investment in American Capital will likely fluctuate. Consequently, an investor's shares, when sold, may be worth more or less than their original cost. Additionally, American Capital's current performance may be lower or higher than the performance data quoted above.
This press release contains forward-looking statements. The statements regarding expected results of American Capital are subject to various factors and uncertainties, including the uncertainties associated with the timing of transaction closings, changes in interest rates, availability of transactions, changes in regional, national or international economic conditions, or changes in the conditions of the industries in which American Capital has made investments.
(1) Capital resources under management is internally and externally managed assets and available capital resources as of June 30, 2008.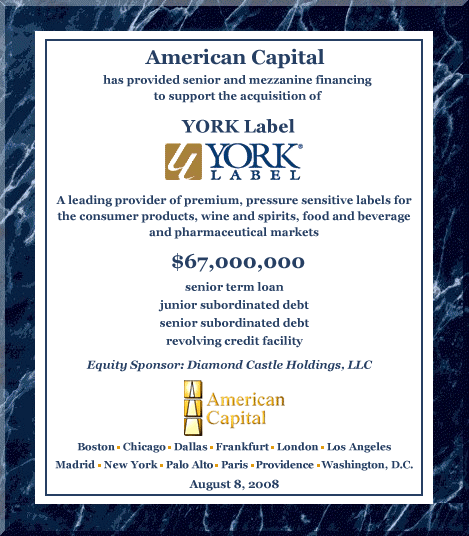 Contact:
Pankaj Gupta, Principal, Sponsor Finance (301) 951-6122
Brett Donelan, Vice President, Sponsor Finance (301) 951-6122
Jennifer Burke, Corporate Communications (301) 951-6122
SOURCE: American Capital Ltd.
www.americancapital.com