Bethesda, MD – July 17, 2007 – American Capital Strategies Ltd. (Nasdaq: ACAS) announced today that it has invested $50 million in its portfolio company TransFirst Holdings Inc., a leading provider of transaction processing services and payment technologies. American Capital's investment takes the form of a second lien term note and supports the acquisition of TransFirst led by its new private equity sponsor Welsh, Carson, Anderson & Stowe. TransFirst was originally owned by GTCR Golder Rauner LLC.
"This is a great testament to the continued support American Capital provides its portfolio companies, even in times of changing ownership," said Brian Graff, American Capital Regional Managing Director. "This investment also establishes a new relationship with private equity sponsor Welsh, Carson, Anderson & Stowe. Since our 1997 IPO, American Capital has worked with approximately 125 private equity firms, supporting their buyouts, recapitalizations and add-on acquisitions."
American Capital has invested directly and through its funds under management over $10.5 billion in the last twelve months, over $6.5 billion year to date and approximately $306 million quarter to date. Not including funds under management, American Capital has invested over $7.5 billion in the last twelve months, over $4.7 billion year to date and approximately $170 million quarter to date. For more information about American Capital's portfolio, please go to www.americancapital.com/our_portfolio/our_portfolio.html.
"TransFirst is a premier provider of processing services and has proven to be an excellent investment for American Capital since we first invested in the Company in 2004," said Chris Carey, American Capital Principal. "Over the course of our investment, TransFirst and its management team have exceeded our expectations and have continued to impress us with the Company's growth and vision. We believe that the Company will maintain its growth, especially as it solidifies its position with the small to medium sized merchants and increases its focus on high growth verticals such as healthcare and government."
American Capital first invested in TransFirst in April 2004, supporting TransFirst's acquisition of the third party and agent bank merchant division of Fifth Third Bank (Nasdaq: FITB) Processing Solutions. American Capital made a subsequent investment in TransFirst in August 2006 to support its recapitalization. American Capital partnered with GTCR in both investments.
Founded in 1995, Dallas-based TransFirst is a provider of a complete line of merchant credit and debit transaction processing services, including transaction authorization, transaction data capture and transmission, merchant reporting, merchant acceptance, transaction settlement and clearing, real-time transaction monitoring and transaction charge-back solutions. TransFirst's customer base is made up of more than 1,300 sales channel partners representing approximately 155,000 merchants throughout the U.S. In addition to its headquarters, TransFirst also has operating facilities in Colorado, Nebraska, Kansas, Wisconsin and California and employs over 560.
For more information about American Capital's investments in TransFirst Holdings, please go to www.americancapital.com/our_portfolio/companies/transfirst.html.
ABOUT AMERICAN CAPITAL
American Capital is the only alternative asset management company that is a member of the S&P 500. With $15 billion in assets under management, American Capital is the largest U.S. publicly traded private equity firm and one of the largest publicly traded alternative asset managers. American Capital, both directly and through its global asset management business, is an investor in management and employee buyouts, private equity buyouts, and early stage and mature private and public companies. American Capital provides senior debt, mezzanine debt and equity to fund growth, acquisitions, recapitalizations and securitizations. American Capital and its affiliates invest from $5 million to $800 million per company in North America and €5 million to €500 million per company in Europe.
As of June 30, 2007, American Capital shareholders have enjoyed a total return of 578% since the Company's IPO - an annualized return of 22%, assuming reinvestment of dividends. American Capital has paid a total of $1.7 billion in dividends and paid or declared $24.24 dividends per share since its August 1997 IPO at $15 per share.
Companies interested in learning more about American Capital's flexible financing should contact Mark Opel, Senior Vice President, Business Development, at (800) 248-9340, or visit www.AmericanCapital.com or www.EuropeanCapital.com.
Performance data quoted above represents past performance of American Capital. Past performance does not guarantee future results and the investment return and principal value of an investment in American Capital will likely fluctuate. Consequently, an investor's shares, when sold, may be worth more or less than their original cost. Additionally, American Capital's current performance may be lower or higher than the performance data quoted above.
This press release contains forward-looking statements. The statements regarding expected results of American Capital Strategies are subject to various factors and uncertainties, including the uncertainties associated with the timing of transaction closings, changes in interest rates, availability of transactions, changes in regional, national or international economic conditions, or changes in the conditions of the industries in which American Capital has made investments.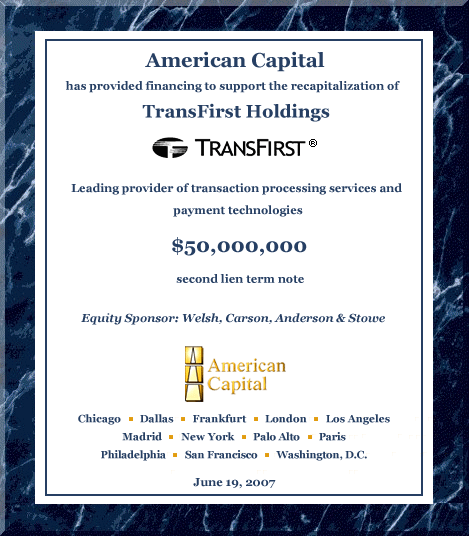 This announcement is neither an offer to sell nor a solicitation to buy securities. This announcement appears as a matter of record only.
Contact:
Chris Carey, Principal (212) 213-2009
Brian Maney, Director, Corporate Communications (301) 951-6122
SOURCE: American Capital Ltd.
www.americancapital.com