Bethesda, MD - February 2, 2007 - American Capital Strategies Ltd. (Nasdaq: ACAS) announced today that in the fourth quarter of 2006 it provided a one stop financing package to Venus Swimwear Inc., a leading direct marketer of women's swimwear and sportswear, and WinterSilks LLC, the largest direct marketer of silk undergarments, apparel and accessories. American Capital's financing solution supported the recapitalization of Venus Swimwear and WinterSilks sponsored by Golden Gate Capital in partnership with the companies' existing management teams.
"We are very pleased to be working again with Golden Gate Capital in support of its recapitalization of Venus and WinterSilks, leading direct marketers of women's swimwear, sportswear and silk thermal apparel," said Darin Winn, American Capital Regional Managing Director. "American Capital's experience, in-house due diligence capabilities and financial resources make us a great investment partner for private equity sponsors in their buyouts of middle market companies. We're delighted to support Golden Gate as it builds its portfolio of leading specialty apparel brands."
American Capital invested directly and through its funds under management $6.7 billion in 2006 and $2.2 billion in the fourth quarter of 2006 and has invested $697 million in 2007 year to date. Not including funds under management, American Capital invested $5.1 billion in 2006 and $1.7 billion in the fourth quarter of 2006 and has invested $660 million in 2007 year to date. For more information about American Capital's portfolio, please go to www.americancapital.com/our_portfolio/our_portfolio.html.
"Golden Gate Capital has exceptional experience and an impressive track record of success in building value within its rapidly growing portfolio of specialty apparel brands," said Natasha Volyanskaya, American Capital Principal. "Both Venus Swimwear and WinterSilks will benefit from the scale and expertise of Golden Gate's family of eleven brands catering to the most rapidly-growing segments of the apparel market."
"Venus Swimwear has an established, widely recognized brand name, " said Doug Bodel, American Capital Vice President. "It commands a stable customer base and its catalogues are filled with styles that are popular year after year. Venus Swimwear's domestic manufacturing and WinterSilks' longstanding relationships with suppliers result in consistent fit and quality and, therefore, unusually low return rates."
Venus Swimwear was founded in 1982. In 1999, it acquired a majority interest in WinterSilks, a direct marketer of silk apparel whose largely fall/winter business complemented Venus Swimwear's primarily spring/summer business. In 2000, Venus Swimwear launched Venus Apparel, which markets evening and day apparel and accessories. The Company is one of the largest direct marketers of women's swimwear and sportswear and the largest direct marketer of silk thermal apparel and undergarments. Venus Swimwear is headquartered in Jacksonville, FL and employs over 500 people.
"We have developed a strong partnership with American Capital as we rapidly expanded our portfolio of leading specialty apparel brands," said Joshua Olshansky, Golden Gate Capital Principal. "American Capital's team of professionals has reliably structured attractive financing solutions to support many of our acquisitions."
ABOUT AMERICAN CAPITAL
American Capital is the largest U.S. publicly traded alternative asset manager with $12 billion in capital resources under management. American Capital, both directly and through its global asset management business, is an investor in management and employee buyouts, private equity buyouts and early stage and mature private and public companies. American Capital provides senior debt, mezzanine debt and equity to fund growth, acquisitions, recapitalizations and securitizations. American Capital invests from $5 million to $500 million in North America and €5 million to €400 million in Europe.
As of January 31, 2007, American Capital shareholders have enjoyed a total return of 655% since the Company's IPO - an annualized return of 24%, assuming reinvestment of dividends. American Capital has paid a total of $1.4 billion in dividends and paid $22.44 dividends per share since going public in August 1997 at $15 per share.
Companies interested in learning more about American Capital's flexible financing should contact Mark Opel, Senior Vice President, Business Development, at (800) 248-9340, or visit www.AmericanCapital.com or www.EuropeanCapital.com.
ABOUT GOLDEN GATE CAPITAL
Golden Gate Capital is a San Francisco-based private equity investment firm with approximately $2.6 billion of capital under management. In addition to Venus Swimwear, American Capital has invested with Golden Gate in five other portfolio companies, including Appleseed's Inc., a leading direct marketer of women's apparel; Aspect Software Inc., the leading provider of contact center software solutions for businesses worldwide; Haband Inc., one of America's oldest direct mail-order houses; Inovis International Inc., a leading provider of business-to-business (B2B) software and services and Vision Solutions Inc., the leading provider of high availability, disaster recovery and data management solutions for the System i market.
Performance data quoted above represents past performance of American Capital. Past performance does not guarantee future results and the investment return and principal value of an investment in American Capital will likely fluctuate. Consequently, an investor's shares, when sold, may be worth more or less than their original cost. Additionally, American Capital's current performance may be lower or higher than the performance data quoted above.
This press release contains forward-looking statements. The statements regarding expected results of American Capital are subject to various factors and uncertainties, including the uncertainties associated with the timing of transaction closings, changes in interest rates, availability of transactions, changes in regional, national or international economic conditions, or changes in the conditions of the industries in which American Capital has made investments.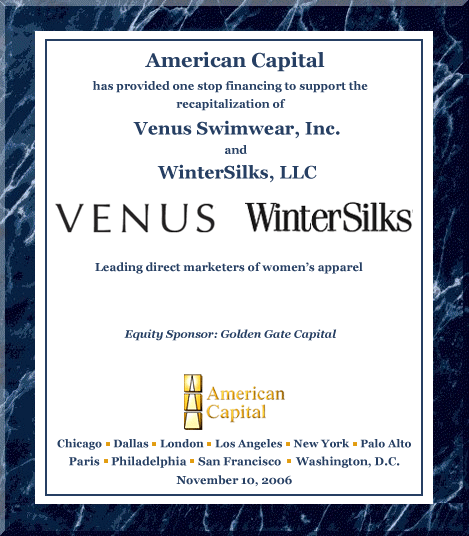 This announcement is neither an offer to sell nor a solicitation to buy securities.
This announcement appears as a matter of record only.
Contact:
Natasha Volyanskaya, Principal (415) 591-0120
Doug Bodel, Vice President (415) 591-0120
Brian Maney, Director, Corporate Communications (301) 951-6122
SOURCE: American Capital Ltd.
www.americancapital.com