Bethesda, MD - January 23, 2007 - American Capital Strategies Ltd. (Nasdaq: ACAS) announced today that it and an affiliate have invested $411 million in the One Stop Buyout™ of WIS International, a leading global provider of outsourced inventory management services. American Capital's investment takes the form of a senior term B loan, senior subordinated debt, holding company PIK notes and common and redeemable preferred equity. American Capital is also providing a revolving credit facility. American Capital Equity Fund I LLC ("ACE"), a fund managed by American Capital, provided 30% of the American Capital equity investment. WIS management is investing in equity. Post-close, American Capital and ACE will own 81% of WIS on a fully diluted basis.
"We are investing in one of the few U.S. companies with the necessary scale and manpower to supply full-service inventory verification services worldwide," said American Capital Regional Managing Director Brian Graff. "WIS International participates in a stable and recession-resistant industry whose growth is driven by retailers' need to outsource inventory management. We look forward to working with WIS's seasoned management team as they capitalize on growth opportunities."
American Capital has invested directly and through its funds under management $6.7 billion in 2006, $2.2 billion in the fourth quarter of 2006 and $454 million year to date. Not including funds under management, American Capital has invested approximately $5.1 billion in 2006, $1.7 billion in the fourth quarter of 2006 and $430 million year to date.
"WIS International's ability to quickly deploy an experienced inventory counting team armed with the Company's proprietary technology to any location in the world creates high barriers to entry. As retailers expand their geographic reach, WIS provides an opportunity to consolidate to one inventory services provider," said American Capital Managing Director Robert Klein. "The Company provides an efficient and cost effective way for companies to meet mandatory annual tax and audit inventory requirements as well as provide third party oversight in managing loss from theft from both patrons and staff."
"WIS International maintains strong, long term relationships with a diverse customer base, many of which have experienced above market growth in the past five years," said American Capital Vice President Helen Yang. "These relationships, in conjuction with the non-cyclical demand of the business, have resulted in extremely high customer renewal rates."
WIS International was founded in 1967. The Company's core business is to provide the systems, technology and staff for third-party inventory verification services. WIS has U.S. headquarters in San Diego, CA and Canadian headquarters in Toronto, Ontario. The Company has over 200 offices across the U.S., Canada and internationally with operations based in the U.K., China, Japan, Mexico, Brazil and Argentina. Annually WIS provides over 135,000 counts or approximately 370 counts per day for retail clients such as Wal-Mart, Home Depot, Rite Aid, Lowe's, Walgreen's and Dollar General.
"American Capital's team of dedicated professionals provides excellent support as we continuously look for ways to maximize both human and capital resources," said WIS International CEO Sean Davoren. "They were able to bundle several forms of capital into a one stop solution, which provides WIS with the advantage of working with only one investment partner as we take advantage of growth opportunities."
ABOUT AMERICAN CAPITAL
American Capital is the largest U.S. publicly traded alternative asset manager with $12 billion in capital resources under management. American Capital, both directly and through its global asset management business, is an investor in management and employee buyouts, private equity buyouts, and early stage and mature private and public companies. American Capital provides senior debt, mezzanine debt and equity to fund growth, acquisitions, recapitalizations and securitizations. American Capital invests from $5 million to $500 million in North America and €5 million to €400 million in Europe.
As of December 31, 2006, American Capital shareholders have enjoyed a total return of 617% since the Company's IPO - an annualized return of 23%, assuming reinvestment of dividends. American Capital has paid a total of $1.4 billion in dividends and paid $22.44 in dividends per share since going public in August 1997 at $15 per share.
Companies interested in learning more about American Capital's flexible financing should contact Mark Opel, Senior Vice President, Business Development, at (800) 248-9340, or visit www.AmericanCapital.com or www.EuropeanCapital.com.
Performance data quoted above represents past performance of American Capital. Past performance does not guarantee future results and the investment return and principal value of an investment in American Capital will likely fluctuate. Consequently, an investor's shares, when sold, may be worth more or less than their original cost. Additionally, American Capital's current performance may be lower or higher than the performance data quoted above.
This press release contains forward-looking statements. The statements regarding expected results of American Capital are subject to various factors and uncertainties, including the uncertainties associated with the timing of transaction closings, changes in interest rates, availability of transactions, changes in regional, national or international economic conditions, or changes in the conditions of the industries in which American Capital has made investments.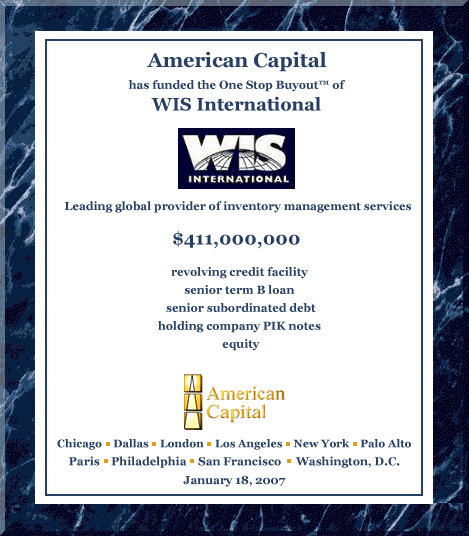 This announcement is neither an offer to sell nor a solicitation to buy securities.
This announcement appears as a matter of record only.
Contact:
Robert Klein, Managing Director (212) 213-2009
Helen Yang, Vice President (212) 213-2009
Brian Maney, Director, Corporate Communications (301) 951-6122
SOURCE: American Capital Ltd.
www.americancapital.com