Bethesda, MD - October 12, 2006 - American Capital Strategies Ltd. (Nasdaq:ACAS) announced today it has made an additional investment in its portfolio company eLynx Ltd. to support its acquisition of SwiftView Inc., a leading provider of electronic document distribution ("EDD") services. American Capital's investment takes the form of a senior term B loan and redeemable preferred and common equity.
"We are delighted to make this add-on investment in our portfolio company eLynx, the leading provider of secure electronic data and document delivery processing solutions to the mortgage industry," said American Capital Regional Managing Director Brian Graff. "Our investment supports the acquisition of SwiftView, the second largest provider of EDD to the mortgage industry and will solidify eLynx's leadership position throughout the industry."
"This investment underscores our ongoing commitment to eLynx, which since our original investment in December 2004 has experienced steady growth amid challenging market conditions," said American Capital Managing Director Robert Klein.
American Capital has invested approximately $4.6 billion in the last twelve months, approximately $3.6 billion year to date and $68 million quarter to date. These amounts do not include American Capital's unfunded equity commitment and debt funded to its affiliate European Capital.
"The combination of eLynx and SwiftView will extend eLynx's market leading position as the leading electronic data and document transmission provider for the mortgage industry," said American Capital Principal Todd Wilson. "SwiftView brings highly advanced products that will give eLynx the broadest array of the most up-to-date offerings in the industry and will accelerate its growth within the mortgage industry. In addition to being the standard document viewing program for mortgage lenders, the SwiftView Viewer is quickly being adopted in new markets such as insurance."
"The SwiftSend Services product, which requires minimal set-up, is highly appealing to small and mid-size companies and ideally complements eLynx's strengths in servicing the largest mortgage lenders," said American Capital Vice President Dustin Smith. "The combined companies will leverage eLynx's business relationships among top tier mortgage lenders to continue to build sales of their electronic and paper fulfillment, electronic disclosures, electronic signature products, electronic loan folders and investor delivery products."
Founded in 1985, SwiftView is the second largest provider of secure EDD services to the mortgage industry. SwftView's products and services include: SwiftSend Services, including SwiftSend LoanDocs, SwiftSend eLoanFolder®, and SwiftSend eDisclosure®, for instant, secure delivery of mortgage documents; and SwiftView Tools, including SwiftView Viewer, for the presentation and re-printing of data. The Company's customers are primarily mortgage lenders and include New Century Mortgage, US Bank Home Mortgage, DR Horton Financial Services and Mortgage Lenders Network USA. SwiftView is headquartered in a suburb of Portland, OR.
eLynx, founded in 1994 and based in Cincinnati, OH, was the first to develop a web-based EDD processing system that transmitted secure mortgage documents. The Company now provides secure EDD and electronic signatures to the mortgage industry through its web posting service ("WPS") and uSign™ products respectively. WPS is constructed with proprietary code that enables clients to securely deliver electronic documents through the use of a common web browser and save up to 75% of traditional paper delivery costs. In 2003, with the introduction of uSign™, eLynx became the first company to integrate e-signature capabilities into a commercially viable EDD solution. The Company's eLynx PRO product, which provides a neutral, desktop platform that installs in minutes, captures documents from any application, interfaces with the user via a familiar email-like appearance and provides Web-based security.
Combined, eLynx and SwiftView serve over 500 financial institutions, including 17 of the top 20 mortgage lenders. Customers include Wells Fargo Home Mortgage, National City Mortgage, Golden West Financial, GreenPoint Mortgage, HSBC Mortgage and ditech.com.
"From the outset of our investment partnership, American Capital has been quick to appreciate the dynamics of our industry and to support our strategic initiatives and it has done so again for our acquisition of SwiftView," said eLynx CEO Phil Huff. "American Capital is the ideal investment partner and we look forward to a long and continuing working relationship."
For more information about American Capital's original investment in eLynx, click here.
ABOUT AMERICAN CAPITAL
American Capital is a publicly traded buyout and mezzanine fund with capital resources of $8.9 billion. American Capital invests in and sponsors management and employee buyouts, invests in private equity buyouts, provides capital directly to early stage and mature private and small public companies and through its asset management business is a manager of debt and equity investments in private companies. American Capital provides senior debt, mezzanine debt and equity to fund growth, acquisitions, recapitalizations and securitizations. American Capital invests from $5 million to to $500 million per company.
As of September 30, 2006, American Capital shareholders have enjoyed a total return of 500% since the Company's IPO - an annualized return of 22%, assuming reinvestment of dividends. American Capital has paid a total of over $1.2 billion in dividends and paid $21.56 dividends per share since its August 1997 IPO at $15 per share.
Companies interested in learning more about American Capital's flexible financing should contact Mark Opel, Senior Vice President, Business Development, at (800) 248-9340, or visit www.AmericanCapital.com.
Performance data quoted above represents past performance of American Capital. Past performance does not guarantee future results and the investment return and principal value of an investment in American Capital will likely fluctuate. Consequently, an investor's shares, when sold, may be worth more or less than their original cost. Additionally, American Capital's current performance may be lower or higher than the performance data quoted above.
This press release contains forward-looking statements. The statements regarding expected results of American Capital Strategies are subject to various factors and uncertainties, including the uncertainties associated with the timing of transaction closings, changes in interest rates, availability of transactions, changes in regional, national or international economic conditions, or changes in the conditions of the industries in which American Capital has made investments.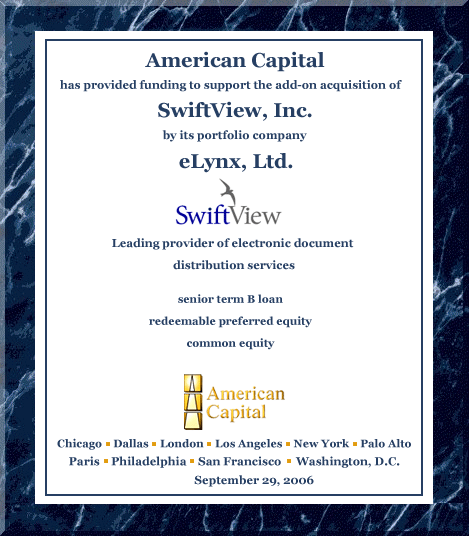 Contact:
Todd Wilson, Principal (212) 213-2009
Dustin Smith, Vice President (212) 213-2009
Brian Maney, Director, Corporate Communications (301) 951-6122
SOURCE: American Capital Ltd.
www.americancapital.com