Bethesda, MD - May 25, 2006 - American Capital Strategies Ltd. (Nasdaq:ACAS) announced today it has invested in the One Stop Buyout™ of FreeConference.com Inc., a leading provider of free telephone conference calling services. American Capital's investment takes the form of a senior term loan, senior subordinated debt, redeemable preferred equity, convertible preferred equity and common equity. American Capital is also providing a revolving credit facility. Glickman Capital and Broadstream Capital Partners, both advisers to FreeConference.com, and FreeConference.com management are also investing in the equity. Post close, American Capital owns 84% of the Company on a fully diluted basis.

"In this investment, American Capital demonstrated its ability to invest throughout the entire capital structure and support management by providing liqiudity to the shareholders and a capital structure to grow the Company," said American Capital Regional Managing Director Brian Graff.

American Capital has invested approximately $4.1 billion in the last twelve months, approximately $1.6 billion year to date and $805 million quarter to date. These amounts do not include American Capital's unfunded equity commitment and debt funded to its portfolio company European Capital. For more information about American Capital's portfolio click here.

"With its WEBBY award-winning website at FreeConference.com, in addition to ConferenceUK.com, based in the United Kingdom and FreieKonferenz.com serving Germany, the Company holds a leading share of the global conference calling market. The company's newest offering, GlobalConference.com, raises the bar in online corporate-level telephone conference call Web portals. Customer growth has been achieved largely by highly effective viral marketing, word-of-mouth and the Company's strong positioning on Internet search engines," said American Capital Vice President William J. Dyer. "FreeConference.com's website, where customers register to schedule and manage conference calls, is top ranked on Google's search engine. The Company's online model tends to attract customers because they can go to the Company's secure website and immediately create conference calls without human interaction 24/7/365."

Based in Los Angeles, CA, FreeConference.com offers two service options: free conference calling and toll-free conference. With the free service, participants conduct a conference call and pay nothing. Conference organizers pay for the toll-free service and receive additional options that allow them to record, download, transcribe and play back conferences over the phone. In 2003, the Company's website won the Business WEBBY award for best telecommunications website, the leading international award in Internet commerce.

"We are pleased that American Capital is investing in FreeConference.com," said FreeConference.com CEO Warren R. Jason. "With American Capital's financial resources and managerial expertise, we will fully develop the platform we have built to achieve its maximum potential."

ABOUT AMERICAN CAPITAL
American Capital is a publicly traded buyout and mezzanine fund with capital resources of approximately $7.7 billion. American Capital invests in and sponsors management and employee buyouts, invests in private equity buyouts, provides capital directly to early stage and mature private and small public companies and through its asset management business is a manager of debt and equity investments in private companies. American Capital provides senior debt, mezzanine debt and equity to fund growth, acquisitions, recapitalizations and securitizations. American Capital invests up to $300 million per company.

As of April 30, 2006, American Capital shareholders have enjoyed atotal return of 405% since the Company's IPO - an annualized return of 21%, assuming reinvestment of dividends.. American Capital has paid a total of $1.1 billion in dividends and paid or declared $20.73 dividends per share since its August 1997 IPO at $15 per share.

Companies interested in learning more about American Capital's flexible financing should contact Mark Opel, Senior Vice President, Business Development, at (800) 248-9340, or visit www.AmericanCapital.com.

Performance data quoted above represents past performance of American Capital. Past performance does not guarantee future results and the investment return and principal value of an investment in American Capital will likely fluctuate. Consequently, an investor's shares, when sold, may be worth more or less than their original cost. Additionally, American Capital's current performance may be lower or higher than the performance data quoted above.

This press release contains forward-looking statements. The statements regarding expected results of American Capital Strategies are subject to various factors and uncertainties, including the uncertainties associated with the timing of transaction closings, changes in interest rates, availability of transactions, changes in regional, national or international economic conditions, or changes in the conditions of the industries in which American Capital has made investments.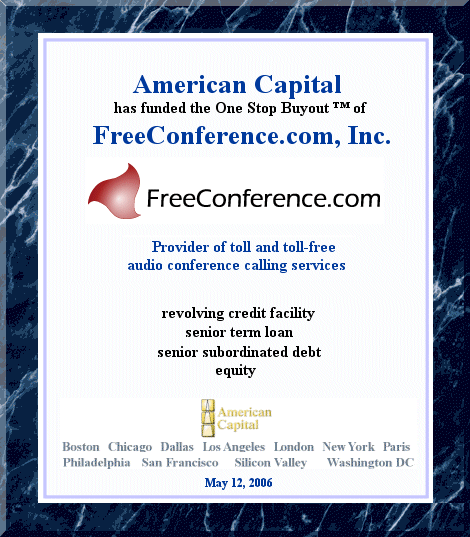 Contact:
William J. Dyer, Vice President (610) 238-0210
Kenneth E. Jones, Principal (610) 238-0210
Brian Maney, Director, Corporate Communications (301) 951-6122
SOURCE: American Capital Ltd.
www.americancapital.com