Bethesda, MD - July 14, 2005 - American Capital Strategies Ltd. (Nasdaq:ACAS) announced today it has invested in Compusearch Software Systems Inc., a leading provider of e-procurement solutions and services to the federal government. American Capital's investment takes the form of senior term loans, senior subordinated debt and convertible preferred equity and supports Carlyle Venture Partners' acquisition of Compusearch. American Capital is also providing a revolving credit facility. Compusearch management is also investing in equity.
"Our investment in Compusearch is American Capital's first investment with Carlyle Venture Partners, the U.S. based venture capital arm of The Carlyle Group," said American Capital COO Ira Wagner. "We are very pleased to add Carlyle to our growing list of private equity partners and that we were able to provide them with a one-stop debt solution for their buyout of Compusearch. This transaction highlights our capability to bring the resources necessary to underwrite all of the debt on the balance sheet and get to closing in a timely manner."
American Capital has invested over $2.5 billion in the last twelve months, over $1.3 billion year to date and nearly $60 million quarter to date. For more information about American Capital's portfolio, click here.
"Carlyle has significant investment experience and relationships with federal IT services businesses and we believe that they are precisely the right sponsor for Compusearch's future growth," said American Capital Managing Director Jon Isaacson. "Compusearch's attractive market share, its best in class software and the Company's growth opportunities make it an appealing investment. Compusearch's robust proprietary software, PRISM, with its large installed base, has captured the leading position among products serving its niche. PRISM's success is due to the significant value proposition it offers customers: automating repetitive tasks in the procurement process; simplifying the bid/proposal process; improving the flow of information among government purchasing agents, requisitioning agents, approvers and financial managers; and meeting IT requirements mandated by the President and Office of Management and Budget. In addition, Compusearch's value added management team and strong relationships with enterprise resource planning contractors will benefit the Company as e-procurement spending continues to increase."
Founded in 1983, Dulles, VA-based Compusearch is the developer of PRISM, the leading software for automating all phases of government procurement. PRISM automates requisition and solicitation generation, competitive bid evaluation, award generation, contract management, management reporting, and contract closeout and archiving, and also significantly speeds up compliance with the complex bidding rules for federal contracts. Easy to use, easily integrated with other software systems, adaptable for different users and compliant with stringent Federal Acquisition Regulations, PRISM is sold to federal government civilian, intelligence and defense agencies. In addition to its software, Compusearch offers services such as customization services, consulting on the implementation and use of PRISM and training on the use of PRISM. Customers include the United States Postal Service, Federal Aviation Administration, Food and Drug Administration and the Departments of Defense, Transportation, Treasury, Agriculture, Homeland Security and Interior among others.
"American Capital proved to be an excellent choice for our investment in Compusearch. They quickly stepped up with attractive terms for their one-stop senior financing package and worked hard to keep on track with our tight closing schedule," said Carlyle Venture Partners Managing Director Brian Hayhurst. "This was our first time working with American Capital and we look forward to building on our relationship in future opportunities."
ABOUT AMERICAN CAPITAL
American Capital is a publicly traded buyout and mezzanine fund with capital resources of approximately $5.4 billion. American Capital invests in and sponsors management and employee buyouts, invests in private equity buyouts, and provides capital directly to private and small public companies. American Capital provides senior debt, mezzanine debt and equity to fund growth, acquisitions and recapitalizations.
As of June 30, 2005, American Capital shareholders have enjoyeda total return of 388% since the Company's IPO - an annualized return of 22%, assuming reinvestment of dividends. American Capital has paid a total of $782 million in dividends and paid $17.51 dividends per share since its August 1997 IPO at $15 per share.
Companies interested in learning more about American Capital's flexible financing should contact Mark Opel, Senior Vice President, Business Development, at (800) 248-9340, or visit our website.
ABOUT CARLYLE VENTURE PARTNERS
Carlyle Venture Partners is one of the world's leading venture capital firms, with more than $800 million in venture capital funds under management. Carlyle Venture Partners, which invests in high-growth companies in the technology, telecommunications and media, healthcare and business services sectors, is the U.S.-based venture capital arm of The Carlyle Group, a global private equity firm with nearly $30 billion under management. The Carlyle Group has more than 560 employees in 24 offices in 14 countries. Carlyle Venture Partners has offices in San Francisco, CA, New York, NY and Washington, DC. Carlyle Venture Partners portfolio includes: Blackboard Inc., provider of the leading software platform for colleges, universities and other education providers to bring their academic, administrative and campus community services online; Rainfinity Inc., a developer of a unique software technology that enhances the reliability and performance of enterprises' Internet infrastructures; and US Business Exchange (USBX) Inc., a technology-enabled M&A advisory services provider to small and medium sized businesses.
Performance data quoted above represents past performance of American Capital. Past performance does not guarantee future results and the investment return and principal value of an investment in American Capital will likely fluctuate. Consequently, an investor's shares, when sold, may be worth more or less than their original cost. Additionally, American Capital's current performance may be lower or higher than the performance data quoted above.
This press release contains forward-looking statements. The statements regarding expected results of American Capital Strategies are subject to various factors and uncertainties, including the uncertainties associated with the timing of transaction closings, changes in interest rates, availability of transactions, changes in regional, national or international economic conditions, or changes in the conditions of the industries in which American Capital has made investments.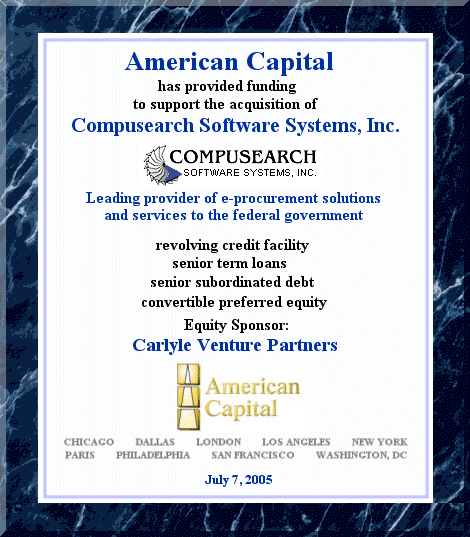 This announcement is neither an offer to sell nor a solicitation to buy securities.
This announcement appears as a matter of record only.
Contact:
Jon Isaacson, Managing Director (301) 951-6122
Brian Maney, Director, Corporate Communications (301) 951-6122
SOURCE: American Capital Ltd.
www.americancapital.com