Bethesda, MD - January 6, 2005 - American Capital Strategies Ltd. (Nasdaq:ACAS) announced today that in December 2004 it invested an additional $39 million in its portfolio company Halex Corporation to refinance existing debt and to support the acquisition of Capitol USA, a leading manufacturer and distributor of flooring installation products and accessories. American Capital's investment takes the form of a senior term loan, senior and junior subordinated debt and common equity. American Capital is also providing a revolving credit facility. American Capital's total current investment in Halex is $72 million. The founders of Halex are maintaining their equity investment.
"We are excited to support the attractive combination of two leaders in the flooring installation industry, creating a stronger and larger diversified flooring product company," said American Capital COO Ira Wagner. "With our additional investment in Halex, we are demonstrating American Capital's capability to fund the entire capital structure of a transaction, dedication to growing our portfolio companies and ability to remain a long-term investment partner, working with management teams to create value."
American Capital invested approximately $2 billion in 2004 and approximately $750 million in the fourth quarter of 2004. For more information about American Capital's portfolio, click here.
"Halex's merger with Capitol solidifies its position in the tackstrip and high-end underlayment markets. In addition, the combined entity will be able to leverage its position with its core products to increase the sale of its other products through cross selling efforts and to accelerate penetration of other new markets," said American Capital Managing Director Frank Do. "The combination is also expected to benefit the combined entity in real, identifiable cost savings and synergies, specifically in improved purchasing and distribution capabilities. Furthermore, the Company's combined product offering, which serves the new homes and remodeled homes markets as well as the home repair segment, enables the Company to mitigate the risk of exposure to the cyclicality of the housing and building market."
"We're looking forward to working with Halex and Capitol management to build upon both companies' strong positions and expertise in the flooring installation supplies and accessories industry," said American Capital Vice President Bill Bujake. "In addition to diversifying its product and distribution strategies, we also believe that Halex will benefit from the managerial talent at Capitol. Furthermore, we believe Capitol's experience in building and managing brands will be helpful in solidifying and expanding the brand recognition and market presence of Halex's existing brands and products."
Dalton, GA-headquartered Capitol USA is a leading manufacturer and distributor of flooring installation products and accessories. Capitol's broad product offering includes carpet tackstrip, plywood underlayment, carpet seaming tape, flooring adhesives, binding tape, carpet paddings and non-slip padding. Capitol has four operating facilities in Georgia and Pennsylvania.
In August 2002 American Capital invested $33 million in debt and equity alongside management in a recapitalization of Halex. Founded in 1990, Pomona, CA-headquartered Halex is a leading global manufacturer and distributor of flooring installation supplies, including carpet tackstrips and plywood underlayment (pictured at left).
"Our ongoing relationship with American Capital enables us to grow and strengthen our position in the flooring installation market as well as new markets," said Halex President Craig Silvers. "Their understanding of our vision for future growth makes them an excellent partner. With American Capital's continued support in our acquisition of Capitol, Halex is in an even better position to serve our marketplace and can expect to continue to succeed in the years ahead."
Click here for more information about Halex's premium flooring installation products.
ABOUT AMERICAN CAPITAL
American Capital is a publicly traded buyout and mezzanine fund with capital resources of more than $4.8 billion. American Capital is an investor in and sponsor of management and employee buyouts, invests in private equity buyouts, and provides capital directly to private and small public companies. American Capital provides senior debt, mezzanine debt and equity to fund growth, acquisitions and recapitalizations.
As of December 31, 2004, American Capital shareholders have enjoyed a total return of 326% since the Company's IPO - an annualized return of 22%, assuming reinvestment of dividends. American Capital has paid a total of $645 million in dividends and paid or declared $16.03 dividends per share since its August 1997 IPO at $15 per share.
Companies interested in learning more about American Capital's flexible financing should contact Mark Opel, Senior Vice President, Business Development, at (800) 248-9340, or visit our website.
This press release contains forward-looking statements. The statements regarding expected results of American Capital Strategies are subject to various factors and uncertainties, including the uncertainties associated with the timing of transaction closings, changes in interest rates, availability of transactions, changes in regional, national or international economic conditions, or changes in the conditions of the industries in which American Capital has made investments.
This announcement is neither an offer to sell nor a solicitation to buy securities.
This announcement appears as a matter of record only.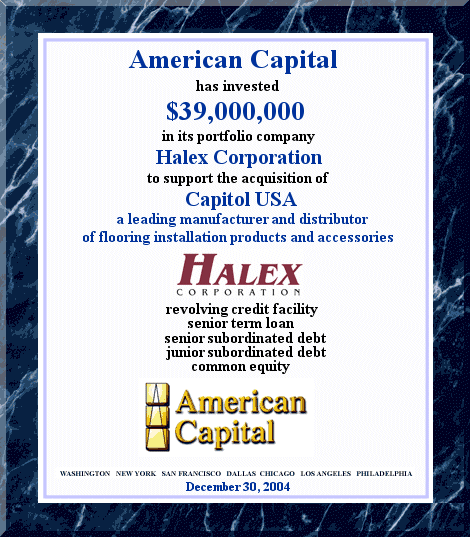 Contact:
Frank Do, Managing Director (310) 806-6280
Bill Bujake, Vice President (310) 806-6280
Brian Maney, Director, Corporate Communications (301) 951-6122
SOURCE: American Capital Ltd.
www.americancapital.com