Bethesda, MD - July 13, 2004 - American Capital Strategies Ltd. (Nasdaq:ACAS) announced today it has invested $15 million in Dynisco LLC, a global manufacturer of branded test, measurement and process control devices for the plastics industry. American Capital's investment takes the form of senior subordinated debt and junior subordinated debt with warrants and supports Audax Private Equity's acquisition of Dynisco from an affiliate of Madison Capital Partners of Chicago, Illinois. Antares Capital provided the revolving credit facility and senior term loans. An affiliate of Madison Capital Partners will retain seller notes as part of the transaction.
"While we have worked previously with Audax Mezzanine, we are pleased to have the opportunity to partner for the first time with Audax Group's equity arm, Audax Private Equity," said American Capital COO Ira Wagner. "Audax's experience in the plastics sector and expertise in investing in companies with significant international operations should add great value to Dynisco as it moves forward and capitalizes on the anticipated cyclical upturn in the plastics industry."
American Capital has invested over $1.3 billion in the last twelve months and over $650 million year to date. For more information about American Capital's portfolio, click here.
"American Capital is investing in an industry recognized brand name known to provide high quality control and safety products that are able to endure harsh processing conditions," said American Capital Managing Director David Ehrenfest Steinglass. "Dynisco's strong competitive position - it occupies the first or second position in most of its key business lines, international footprint, extensive distribution network, leading brand name in the plastics market and high-margin, low fixed cost production process make it an excellent platform in a fragmented industry. In addition, Dynisco's large installed base provides its aftermarket business with stable sales volumes from repairs and replacements, making Dynisco an attractive investment opportunity."
Founded in 1953, Franklin, MA-headquartered Dynisco was the first to design a transducer specifically used to measure the melt pressure of plastic during the extrusion process. The company sells its products under the Dynisco and Beringer brand names. Dynisco outsources the manufacturing of components for its products to China, India and Korea while focusing its internal efforts on engineering, design, assembly and testing. The company has manufacturing facilities in the United States and in Germany and sales offices throughout the European Community. Dynisco serves a diverse group of customers in North America, Europe, Asia and Latin America, including OEMs, resin producers, distributors and end users served directly by Dynisco. Pictured above are several of Dynisco's premium industrial pressure transducers, carefully constructed to withstand even the toughest processing conditions.
"With the strong support of our investment partners, we look forward to working with Dynisco's management team to grow the company at home and abroad as the plastics industry recovers from its recent downturn," said Audax Managing Director, Keith Palumbo. Audax Principal Oliver Ewald added, "It is our intention to aggressively pursue acquisitions using Dynisco's best-in-class manufacturing and distribution as a platform. American Capital's ability to invest in the growth of their portfolio companies was a big plus for us."
As of June 30, 2004, American Capital shareholders have enjoyed a total return of 242% since the Company's IPO - an annualized return of 20%, assuming reinvestment of dividends. American Capital has declared a total of $14.52 per share in dividends since its August 1997 IPO.
American Capital is a publicly traded buyout and mezzanine fund with capital resources over $3 billion. American Capital is an investor in and sponsor of management and employee buyouts; invests in private equity sponsored buyouts, and provides capital directly to private and small public companies. American Capital provides senior debt, mezzanine debt and equity to fund growth, acquisitions and recapitalizations.
Companies interested in learning more about American Capital's flexible financing should contact Mark Opel, Principal and Senior Vice President, Business Development, at (800) 248-9340, or visit our website.
Audax Group, established in 1999, is a premier source of investment capital for middle market companies. Audax manages a variety of equity and debt funds that it invests in companies at various stages of business growth. Audax Private Equity invests in leveraged buyouts, recapitalizations, and growth capital transactions across a wide range of industries. Audax Mezzanine invests in subordinated debt and other junior capital securities principally for middle market companies.
This press release contains forward-looking statements. The statements regarding expected results of American Capital Strategies are subject to various factors and uncertainties, including the uncertainties associated with the timing of transaction closings, changes in interest rates, availability of transactions, changes in regional or national economic conditions, or changes in the conditions of the industries in which American Capital has made investments.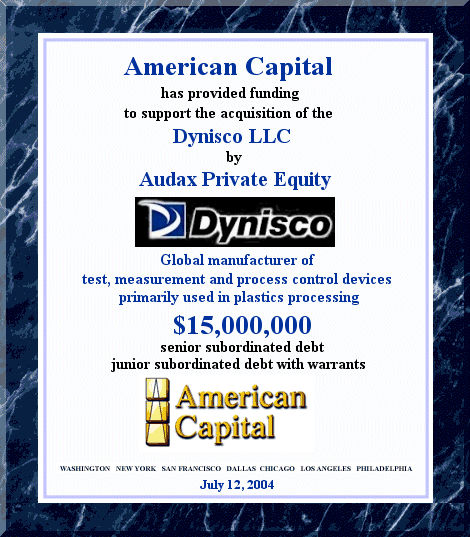 This announcement is neither an offer to sell nor a solicitation to buy securities.
This announcement appears as a matter of record only.
Contact:
David Ehrenfest Steinglass, Managing Director (301) 951-6122
Brian Maney, Director, Corporate Communications (301) 951-6122
SOURCE: American Capital Ltd.
www.americancapital.com