Bethesda, MD - June 18, 2004 - American Capital Strategies Ltd. (Nasdaq:ACAS) announced today it has invested $74 million in the recapitalization of Directed Electronics Inc., a diversified consumer electronics company and the world's largest designer and marketer of consumer branded vehicle security and convenience systems. American Capital's investment takes the form of senior and junior subordinated debt. Wachovia Capital Markets LLC, CIBC World Markets LLC and a senior bank syndicate are providing a senior credit facility. Company management retains an equity investment in Directed Electronics. Trivest Partners LP is majority owner.
"We are pleased that Trivest came to us to help them execute a recapitalization of one of their portfolio companies," said American Capital COO Ira Wagner. "Our investment with Trivest is our 10th new sponsor relationship in the last twelve months."
American Capital has invested over $1.1 billion in the last twelve months and over $400 million year to date. For more information about American Capital's portfolio, click here.
"American Capital is investing in an industry leader with a strong and experienced management team and significant barriers to entry," said American Capital Managing Director Brian Graff. "Directed has a portfolio of approximately 95 patents and 250 trademarks, a diverse and scalable customer base, a significant direct to retailer distribution system and a strong multi-brand strategy."
The company's products include vehicle security systems, GPS tracking units and keyless entry devices that are marketed under brands such as Viper, Clifford, Python and Hornet and home and car audio systems marketed under a/d/s, Precision Power, Orion and Xtreme. Directed is primary supplier to more than 3,000 retailers, including small specialty retailers as well as prominent regional and national retailers such as Best Buy, Tweeter and Auto Express and sells direct to retailers in the United Kingdom and through 45 distributors in more than 50 other countries. Headquartered in Vista, CA, Directed has more than 200 employees and has experienced sales and EBITDA growth every year since its inception in 1982, with sales of approximately $140 million in 2003.
"American Capital was able to step up to the plate when we needed a partner who could appreciate our needs and the needs of our portfolio company," said Trivest Partner and COO Troy Templeton. "They were thorough, timely and hard working."
As of May 31, 2004, American Capital shareholders have enjoyed a total return of 219% since the Company's IPO -- an annualized return of 19%, assuming reinvestment of dividends. American Capital has declared a total of $14.52 per share in dividends since its August 1997 IPO.
American Capital is a publicly traded buyout and mezzanine fund with capital resources of approximately $3 billion. American Capital is an investor in and sponsor of management and employee buyouts; invests in private equity sponsored buyouts, and provides capital directly to private and small public companies. American Capital provides senior debt, mezzanine debt and equity to fund growth, acquisitions and recapitalizations.
Companies interested in learning more about American Capital's flexible financing should contact Mark Opel, Senior Vice President, Business Development, at (800) 248-9340, or visit our website at www.AmericanCapital.com.
Trivest Partners is a Miami, Florida based private investment firm and leading provider of equity for middle market corporate acquisitions, recapitalizations and growth capital financings. Since its founding in 1981, Trivest Partners has sponsored more than 115 acquisitions and recapitalizations, totaling in excess of $2.4 billion in value. Trivest invests primarily in four market segments - consumer products, business services, niche manufacturers and healthcare companies. The firm has a long history of successful consumer oriented investments such as Directed Electronics. Other consumer products investments include Aero Products International Inc., maker of the popular AeroBed, Brown Jordan International Inc., premier designer, manufacturer and marketer of fine contract and retail furnishings, and Sun Pharmaceuticals Ltd., manufacturer and marketer of sun and skin care products under the Banana Boat brand name.
This press release contains forward-looking statements. The statements regarding expected results of American Capital Strategies are subject to various factors and uncertainties, including the uncertainties associated with the timing of transaction closings, changes in interest rates, availability of transactions, changes in regional or national economic conditions, or changes in the conditions of the industries in which American Capital has made investments.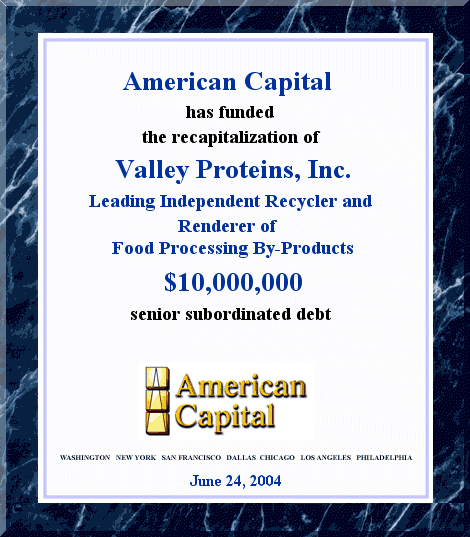 This announcement is neither an offer to sell nor a solicitation to buy securities.
This announcement appears as a matter of record only.
Contact:
Brian Graff, Managing Director (212) 213-2009
Brian Maney, Director, Corporate Communications (301) 951-6122
SOURCE: American Capital Ltd.
www.americancapital.com