Bethesda, MD - February 13, 2004 - American Capital Strategies Ltd. (Nasdaq:ACAS) announced today it has invested $21.6 million in Nivel Parts & Manufacturing Co. ("Nivel"), the largest independent distributor of aftermarket golf car replacement parts and accessories. American Capital's investment takes the form of a revolving credit facility, senior secured term loans, junior and senior secured subordinated debt with warrants and redeemable preferred and common equity. The investment supports the acquisition of Nivel by a company controlled by Sentinel Capital Partners from KODA Enterprises Group. Nivel management is investing in redeemable preferred and common equity. Post closing, American Capital will own approximately 11% of Nivel on a fully diluted basis.
"We are pleased to be working again with Sentinel Capital Partners, a highly experienced private equity sponsor," said American Capital COO Ira Wagner. "With this investment, American Capital is adding an established leader in the growing golf car replacement parts industry to our diversified portfolio of over 85 middle market companies."
American Capital has invested approximately $1.1 billion in the past twelve months. For more information about American Capital's portfolio, click here.
"American Capital is backing a true value-added distributor. Nivel's well-developed infrastructure and excellent sourcing capability have resulted in its ability to act as a low-cost, just-in-time inventory provider of the industry's broadest selection of golf car parts across multiple brands," said American Capital Managing Director Brian Graff. "With sales diversified by customers, products and geography, Nivel has demonstrated consistent financial performance over the years. Nivel can expect continued growth as the trend toward repair and refurbishment of used golf cars for alternative use continues, causing an increase in demand for aftermarket replacement parts."
Founded in 1968, Jacksonville, FL headquartered Nivel is a one-stop shop for golf car replacement parts, offering the broadest selection of parts for all major manufacturers' cars. Nivel carries over 2,800 SKUs, including accessories, battery parts, bearings, seals, o-rings, brake parts, chargers, motor and engine parts, gaskets, solenoids, springs, switches and tires. The company distributes golf car parts exclusively to independent and franchise golf car dealers throughout the US and internationally. In addition to its distribution business, Nivel publishes Golf Car News, a bi-monthly industry magazine targeted at golf car dealers and The Cart Trader, a classified newsletter for buyers and sellers of used golf cars. The Company has grown sales at a compound annual growth rate ("CAGR") of over 10% since 2000.
"This is the second time we've turned to American Capital for mezzanine financing. Once again, American Capital has proven to be an ideal investment partner, working quickly and diligently to complete this acquisition," said John McCormack, co-founder and Senior Partner of Sentinel. "We look forward to continuing our relationship with American Capital and supporting Nivel as it grows and capitalizes on the growing aftermarket golf car supplies and accessories market."
As of January 31, 2003, American Capital shareholders have enjoyed a total return of 273% since the Company's IPO -- an annualized return of 23%, assuming reinvestment of dividends. American Capital has declared a total of $13.82 per share in dividends since its August 1997 IPO.
American Capital is a publicly traded buyout and mezzanine fund with capital resources in excess of $2.5 billion. American Capital is an investor in and sponsor of management and employee buyouts; invests in private equity sponsored buyouts, and provides capital directly to private and small public companies. American Capital provides senior debt, mezzanine debt and equity to fund growth, acquisitions and recapitalizations.
Companies interested in learning more about American Capital's flexible financing should contact Mark Opel, Principal, at (800) 248-9340, or visit our website.
Sentinel Capital Partners specializes in buying and building smaller middle market companies in the United States and Canada in partnership with management. Sentinel targets service businesses, consumer products, food and restaurants, franchising, and niche/light manufacturing businesses. Sentinel invests in management buyouts, recapitalizations, corporate divestitures and going-private transactions of established businesses with $3 million to $15 million of operating profit.
Sentinel's portfolio includes Castle Dental Centers Inc., a company that develops, manages and operates integrated dental networks; Buffets Inc., the largest operator of buffet-style restaurants in the U.S. with 410 restaurants; Falcon Holdings, the second largest Church's Chicken franchisee with 100 units located in the Midwest; Spinrite, the leading designer, manufacturer and marketer of consumer craft yarn products in North America; and Alemite Corp., a leading lubrication equipment manufacturer. American Capital invested in Sentinel's June 2002 acquisition of Alemite. For more information click here.
This press release contains forward-looking statements. The statements regarding expected results of American Capital Strategies are subject to various factors and uncertainties, including the uncertainties associated with the timing of transaction closings, changes in interest rates, availability of transactions, changes in regional or national economic conditions, or changes in the conditions of the industries in which American Capital has made investments.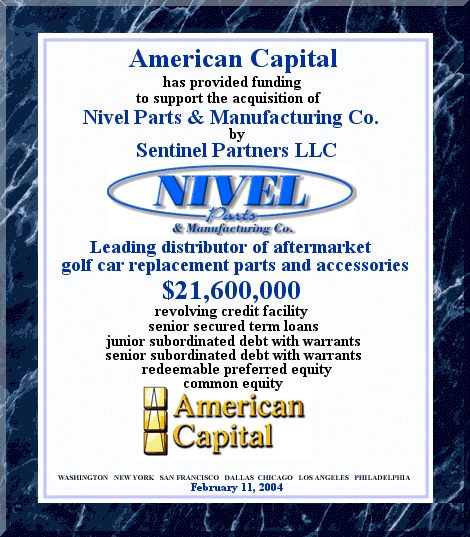 This announcement is neither an offer to sell nor a solicitation to buy securities.
This announcement appears as a matter of record only.
Contact:
Brian Graff, Principal and Managing Director (212) 213-2009
Brian Maney, Director, Corporate Communications (301) 951-6122
SOURCE: American Capital Ltd.
www.americancapital.com