Bethesda, MD – June 21, 2007 – American Capital Strategies Ltd. (Nasdaq: ACAS) announced today that it and an affiliate have invested $125 million in Velocity Financial Group Inc., a newly formed specialty finance company that will provide equipment financing and working capital to middle market and venture-backed companies. American Capital's investment takes the form of senior subordinated debt and preferred equity. American Capital Equity Fund I LLC, a fund managed by American Capital, provided 30% of the American Capital equity investment. Velocity Financial Group's management is investing alongside American Capital.
"Velocity Financial Group is positioned to become a key provider of equipment leasing to middle market companies and of venture finance for small, venture-backed companies," said Bob Grunewald, American Capital Managing Director, Financial Services Group. "Leveraging its independent status and management expertise, Velocity will differentiate itself in a highly competitive market by providing unbiased consultative services on hardware and software. In addition, management's experience financing venture capital companies will be a key differentiator, particularly when coupled with American Capital Financial Services Group's broad contacts and knowledge of the venture market."
Velocity is a specialty finance company providing equipment financing and working capital to middle market and venture-backed companies. Velocity was launched in May 2007 with approximately $400 million in available capital, including American Capital's investment. It was formed by a team of former executives from Comdisco Inc., including the former CEO of the company's technology leasing division and the head of the company's east coast venture finance division. Velocity provides equipment leasing to middle market companies with revenue of between $20 million and $1 billion through its Middle Markets Group and venture leasing and lending to venture-backed companies through its Ventures Group. Velocity is headquartered in Chicago and will serve the venture community out of offices in Boston and Silicon Valley.
"We are delighted that American Capital is supporting Velocity Financial Group in establishing a new financing alternative for middle market and venture-backed companies," said Velocity Chief Executive Officer Frank Cirone. "American Capital's expertise in financial services and credit evaluation, as well as its network among middle market companies and venture capital providers, make it the ideal investment partner for Velocity."
"We set out to build a permanent balance sheet, with strong financial partners that had wide reach, were experts in our business and shared our perspective of building an enterprise for long term sustainability and success. We found all of these qualities in American Capital," says Velocity President Jan Haas.
American Capital has invested directly and through its funds under management $8.7 billion in the last twelve months, $4.6 billion year to date and approximately $3 billion quarter to date. Not including funds under management, American Capital has invested $6.1 billion in the last twelve months, $3.1 billion year to date and approximately $2 billion quarter to date. For more information about American Capital's portfolio, please go to www.americancapital.com/our_portfolio/our_portfolio.html.
ABOUT THE AMERICAN CAPITAL FINANCIAL SERVICES GROUP
The Financial Services Group offers capital solutions for consumer and commercial finance, insurance and asset management companies. The Group invests throughout the capital structure, including senior debt, subordinated debt and equity, and investments up to $800 million in each transaction. Companies interested in learning more about American Capital's Financial Services Group should contact Bob Grunewald, Managing Director, at (301) 951-6122.
ABOUT AMERICAN CAPITAL
American Capital is the second largest U.S. publicly traded alternative asset manager with $12 billion in assets under management (second to Fortress (NYSE: FIG)). American Capital, both directly and through its global asset management business, is an investor in management and employee buyouts, private equity buyouts, and early stage and mature private and public companies. American Capital provides senior debt, mezzanine debt and equity to fund growth, acquisitions, recapitalizations and securitizations. American Capital and its affiliates invest from $5 million to $800 million per company in North America and €5 million to €500 million per company in Europe.
As of May 31, 2007, American Capital shareholders have enjoyed a total return of 656% since the Company's IPO - an annualized return of 23%, assuming reinvestment of dividends. American Capital has paid a total of $1.6 billion in dividends and paid or declared $24.24 dividends per share since going public in August 1997 at $15 per share.
Companies interested in learning more about American Capital's flexible financing should contact Mark Opel, Senior Vice President, Business Development, at (800) 248-9340, or visit www.AmericanCapital.com or www.EuropeanCapital.com.
Performance data quoted above represents past performance of American Capital. Past performance does not guarantee future results and the investment return and principal value of an investment in American Capital will likely fluctuate. Consequently, an investor's shares, when sold, may be worth more or less than their original cost. Additionally, American Capital's current performance may be lower or higher than the performance data quoted above.
This press release contains forward-looking statements. The statements regarding expected results of American Capital are subject to various factors and uncertainties, including the uncertainties associated with the timing of transaction closings, changes in interest rates, availability of transactions, changes in regional, national or international economic conditions, or changes in the conditions of the industries in which American Capital has made investments.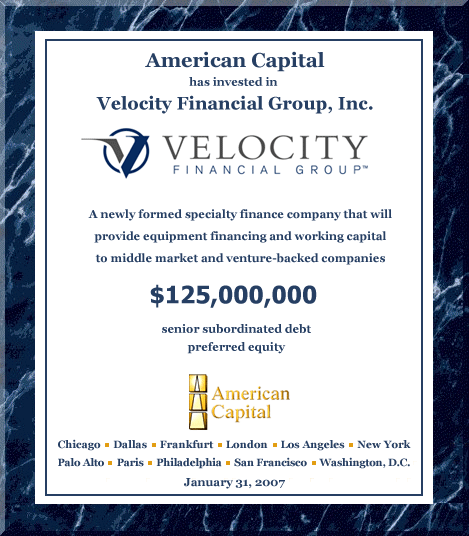 This announcement is neither an offer to sell nor a solicitation to buy securities. This announcement appears as a matter of record only.
Contact:
Bob Grunewald, Managing Director, Financial Services Group (301) 951-6122
Brian Maney, Director, Corporate Communications (301) 951-6122
SOURCE: American Capital Ltd.
www.americancapital.com